Sweet. It's the first word that comes to mind when we hear the name "Hershey, Pennsylvania". After all it's home to Hershey's – the largest chocolate manufacturer in North America founded by confectioner and philanthropist, Milton S. Hershey.
If you're anything like me, you're always looking for enjoyable and interesting things to do with your family. We're so fortunate in that we live close to so many cool places that offer tons of amusement for my family and educational experiences for my kids – including Hersheypark and HERSHEY'S CHOCOLATE WORLD in Hershey, Pennsylvania.
We love Hershey, PA! Billed as the "Sweetest Place on Earth" and rightly so, we always have a fantastic time whenever we visit! 🙂
I have not gone to a Chocolate Making Tour yet. But I've heard only great things about it. It's supposed to be really fun, educational, and yes, LOTS of Hershey's chocolates! 🙂
This year, I'm happy to share that the same iconic Chocolate Making Tour is being re-launched at HERSHEY'S CHOCOLATE WORLD , following the first major renovation in 10 years and just in time for summer! I can't wait to experience this with my family next month! The re-imagined ride provides a look into the magical, modern world of chocolate making, from bean to bar.
If you and your family are planning a trip to experience HERSHEY'S CHOCOLATE WORLD Attraction like we are, it's going to be a new tour for a new generation!
Here are the new features you will see on the Chocolate Making Tour:
Enhanced sets that create a fully immersive and interactive experience;
Additional lovable animals in the barnyard scene, transporting visitors to where Hershey sources most of its milk, fresh from the farms of Pennsylvania;
A refreshed finale scene that brings together sweet memories of families enjoying the Tour with those from other HERSHEY'S CHOCOLATE WORLD Attractions around the world; and
New photo features make it easy for families to capture and share the magical memories from their visit.
In conjunction with these new features, fans can celebrate the Grand Opening of Hershey's Chocolate Making Tour at HERSHEY'S CHOCOLATE WORLD and Hershey's Water Works at Hershey Lodge! They can also enter for a chance to win the ultimate Hershey, PA Weekend Getaway by entering the "What's New in Hershey, PA" Sweepstakes now through April 28th!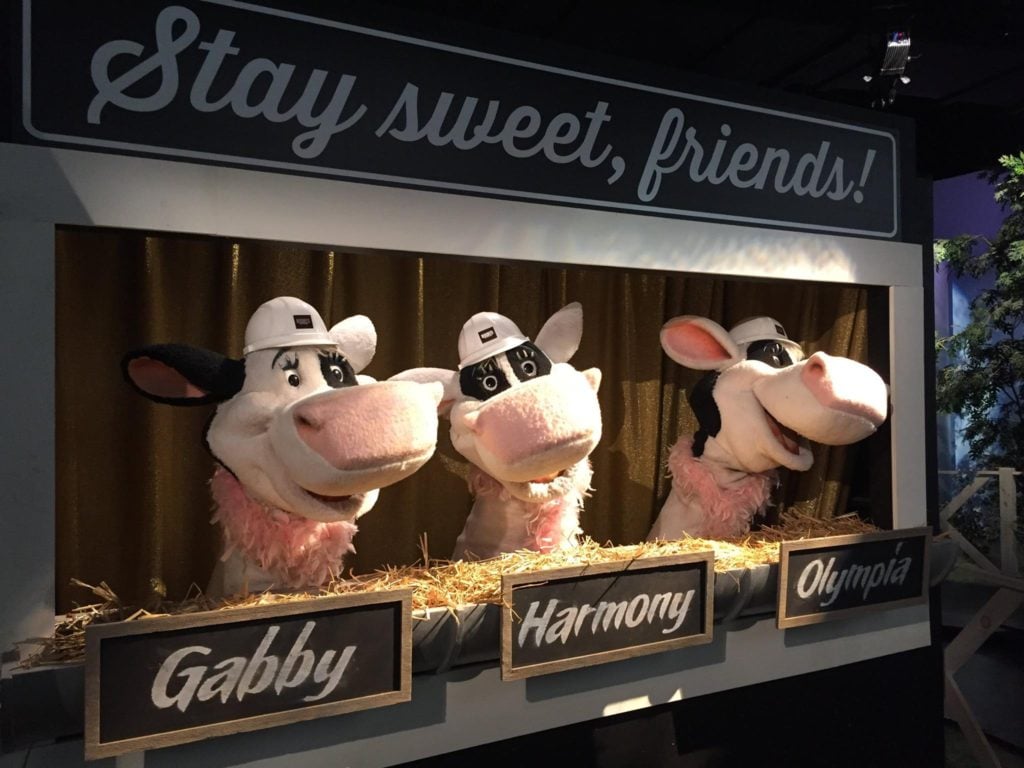 What's more, there is a fun Cow Naming Contest going on right now through May 9th! Six new cows are moooving in to the Chocolate Making Tour ride and Hershey's needs your help naming them! You can vote for your favorite name for a different cow each week and each cow's name will be inspired by the delicious flavors found in chocolate: Sweet, Dairy, Fruity, Floral, Earthy and Spicy/Nutty. To vote, just visit Hersheys.com/ChocolateWorld/Cows!
For the latest updates about HERSHEY'S CHOCOLATE WORLD, visit or follow them on their social media pages:
This post was sponsored by HERSHEY'S CHOCOLATE WORLD and its advertiser. All opinions are mine.