With the Christmas holidays on their way, the rush is on to come up with the perfect gifts for every friend and member of the family. All the shopping crazes during the holiday season make it too easy to forget that nothing makes a more thoughtful gift than something handmade.
Just in time for the holidays, Country Woman offers a range of fun handmade gifts that come together faster than you'd expect.

Here are a few of these fun and easy DIY Christmas gifts with simple step-by-step instructions:
· Gouged frames: With just a needle and a few crayons, you can turn a basic wooden craft frame into a sentimental keepsake that will stand out on anyone's desk or mantelpiece. For a full how-to, go here.


· Watercolor notecards: Simple stencils make it easy to create a pretty set of custom cards that will be great for any occasion. You can give these as a gift or hold onto them to use yourself. For a full list of materials and instructions, go here.
· Painted candle holders: You can buy plain votive candle holders or use attractive jars to make beautiful painted candle holders in contrasting colors. Gold puff paint designs add extra warmth. You can find instructions and design ideas here.



· Hand-rolled beeswax candles: These beautiful, long-burning candles make a thoughtful holiday or hostess gift. Easy to make, they're said to be calming to burn, so keep a few for your own table, too! Check out the easy instructions here.

You can go here for more thoughtful handmade gifts and other fun crafts,or you can download the digital version of Country Woman on the iPad, Nook, Kindle or Google Play & Android.
*About Country Woman magazine: Country Woman is the #1 Country Lifestyle Magazine published bi-monthly for women who live in or long for the country. Each issue features a large food section filled with mouth-watering, down-home recipes for today's cooks, including winning recipes for the issue's contest. There are also ideas for easy and frugal country decorating, casual entertaining, fun and appealing crafts, garden tips, lifestyle stories, health advice, puzzles, nostalgia and more.

Don't miss out on the latest fab deals, cool freebies, fun giveaways, delicious recipes, DIY inspirations and more! Subscribe to the Hip Mama's Place email newsletter, Hip Mama's Place feed reader, or simply "Like" Hip Mama's Place on Facebook and/or follow Hip Mama's Place on Twitter!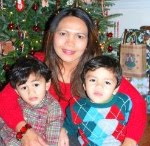 About the Author: Jocelyn Cañasa-Brown is a working mom of two boys and is a recognized blogger and mom influencer in the Washington, DC area. In her spare time, she designs and creates her own handmade jewelry, maintains her jewelry store on Etsy and is an active moms group organizer and leader both online and offline. Hip Mama's Place was nominated for Parents 2011 Best All-Around Mom Blog and named one of the Highest Rated Blogs and Sites on Nickelodeon ParentsConnect for the Washington, DC area. Follow Jocelyn on Twitter, Facebook and Pinterest.