If you have a child age 18 years and under in need of a back to school haircut, take them to a Hair Cuttery salon near you. Throughout the month of August, they are once again offering the Share a Haircut program where they will donate a haircut to an underprivileged child in two ways:

1. Go "Like" Hair Cuttery on Facebook and share this news on Facebook, Twitter, Pinterest, or share a picture on their Haircut Wall on Facebook
2. For every child age 18 and under who purchases a back-to-school haircut at Hair Cuttery, an additional free haircut certificate will be donated on your behalf to a child in need.

Hair Cuttery has a goal of donating 125, 000 gift certificates for a free haircut to children all of the month of August so let's all help by spreading this good news to your family and friends and help a great cause for children!
Don't miss out on the latest fab deals, cool freebies, fun giveaways, delicious recipes, DIY inspirations and more! Subscribe to the Hip Mama's Place email newsletter, Hip Mama's Place feed reader, or simply "Like" Hip Mama's Place on Facebook and/or follow Hip Mama's Place on Twitter!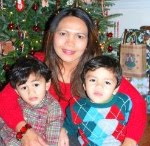 About the Author: Jocelyn Cañasa-Brown is a working mom of two boys and is a recognized blogger and mom influencer in the Washington, DC area. In her spare time, she designs and creates her own handmade jewelry, maintains her jewelry store on Etsy and is an active moms group organizer and leader both online and offline. Hip Mama's Place was nominated for Parents 2011 Best All-Around Mom Blog and named one of the Highest Rated Blogs and Sites on Nickelodeon ParentsConnect for the Washington, DC area. Follow Jocelyn on Twitter, Facebook and Pinterest.