I was super excited about my grocery shopping trip to Harris Teeter today. First, because I have gathered a lot of coupons for this trip and second, because I know I would be saving even more with their Super Double Coupon promotion.
With my VIC savings/reward card and double value manufacturer coupons, here are all the great stuff I scored today – all for only $34.70 (plus 5% VA sales tax)! I can't believe how much stuff I got for under $40! I felt like I just shopped at a dollar store but with better items, of course! My husband couldn't be any happier! 🙂
Double click the photo for an even better look at all these fantastic items I snagged!
(2) V8 V-FUSION JUICE @ $3.99 each, on sale in-store B1G1 FREE – $1/2 V8 V-Fusion Juice coupon x 2= $2/2 = my total cost= $1.99 for two or $0.98 each
(2) V8 V-Fusion Smoothie Beverage @ $3.99 each, on sale B1G1 FREE, used $1/1 V8 V-Fusion Smoothie coupon x 2= $2/1 = my total cost= $1.99 for two or $0.98 each
(4) Hamburger Helper @ $1.99 each – used $0.80 wyb (when you buy) 4 coupon x double= $1.60 off= my total cost: $6.36 for 4 boxes or $1.59 a box
(2) Muir Glen Organic Pasta @ $3.49 each – used 2 $0.75 coupon x double= $1.50 off each= my total cost: $1.99 each
(2) Honey Bunches of Oats Cereal @ $2.50 each – used 2 $1/1 coupon for each x double= $2.00 off each= my total cost $0.50 each
(5) Campbell's Chicken with Rice soup @ 5 for $6.25 – used $0.40 wyb 3 coupon x double= $0.80= my total cost: $5.55 for 5
(3) Totino's Stuffers $4.59 each- used 3 $4.50/1 coupon= my total cost: $0.27 for all three packages. I got my full value coupons because of a review opportunity I did recently, although you can still get a $1/1 Totino's Stuffers coupon at Coupons.com. Double that and you'll get $2/1 coupon at Harris Teeter!
(3) Boneless and Skinless Chicken Breasts, on sale no coupon required = $8.30 for 3 packages
(1) Lunchables Turkey and Cheddar Cheese with Fruit (my six year old love these!) @ $3.25 – used $0.50/1 coupon x double= $1.00 off= my total cost: $2.25
(2) Aquafresh Extreme Clean Toothpaste on sale at $2.49 each, used 2 $1/1 Aquafresh toothpaste coupon x double= $2 off each, making my total cost= $0.49 each
(1) Soft Scrub Total All-Purpose Cleaner @ $3.99 – used $1/1 Soft Scrub coupon x double= $2.00 off= my total cost: $1.99
I also got other items from Harris Teeter that aren't pictured here. I got bananas, a bag of chips, a box of pretzel snacks, a gallon of milk, a B1G1 deal for Crystal Springs 24 pack bottled water that was only $6.49 for two packs, a Bounce dryer sheet, a pack of Barilla spaghetti and more! My total grocery bill was only $67.56 for all the grocery items I bought that would have normally cost us about $150.00! Now my husband is convinced we really have to use more and more coupons every time we grocery shop! I definitely cut back about 60% of the total cost of my grocery expenses for this month!


Anyway, if you live close to a Harris Teeter store, go double your savings with the Super Double Coupon week promo which just started today until January 10th, 2012 only. You'll never know what you'll find! They double your coupons with a face value of up to $1.98 so for example, if you have a $1.00 off one item, you get $2.00 off instead!
The fine print on Double Couponing at Harris Teeter: We accept 20 double coupons per day per customer/household with VIC card; all others redeemed at face value. No orders may be separated that would allow the 20 coupon limit or any other coupon limits to be exceeded.
As always, read the Harris Teeter coupon policy for more information on how you can save money using coupons.
How have you saved money using coupons? I would love to hear where you're finding your deals or what deals you've found! Please share by entering your comments below. Or if you'd like to see your deal finds posted here on Hip Mama's Place, simply send them to me by email at: info@hipmamasplace.com. Please include at least one original photo of your deal/deals and tell me briefly how you got the deal/deals (include coupons and ways you used to get your deal/deals).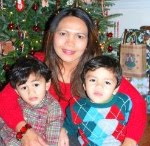 About the Author: Jocelyn Cañasa-Brown is a working mom of two boys and is a recognized blogger and mom influencer in the Washington, DC area. In her spare time, she designs and creates her own handmade jewelry, maintains her jewelry store on Artfire and is an active moms group organizer and leader both online and offline. Hip Mama's Place was nominated for Parents 2011 Best All-Around Mom Blog and named one of the Highest Rated Blogs and Sites on Nickelodeon ParentsConnect for the Washington, DC area. Follow Jocelyn on Twitter and/or Facebook.