I am delirious with excitement. My husband and I are leaving for Rome, Italy tomorrow! 🙂
I've always dreamed of seeing and exploring the splendor of ancient Rome, even as a child. My father was in Rome when I was about ten years old and I remember seeing photos of him showing some of the most magnificent ruins, castles and monuments in this beautiful, ancient city in Europe.
*The Colosseum in Rome, Italy
To me, this was a dream trip, now a dream-come-true slash honeymoon trip.. so what could be better? 🙂
*A boat cruise at The Grand Canal in Venice, Italy
*The iconic Duomo- Filippo Brunelleschi's Dome- in Florence, Italy
We will also be exploring Venice and Florence, Italy on our ten-day trip. I promise to share some photos when I get back. As far as our wedding photos, we're still waiting for them from our photographer which won't be available until the end of November. I know. I can't wait to see them either.
Regular posts will resume around October 21st. Thank you for visiting. I got a few giveaway surprises when I get back so come back again soon!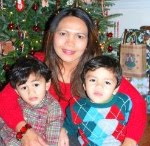 About the Author: Jocelyn Cañasa-Brown is a working mom of two boys and is a recognized blogger and mom influencer in the Washington, DC area. In her spare time, she designs and creates her own handmade jewelry, maintains her jewelry store on Etsy and is an active moms group organizer and leader both online and offline. Hip Mama's Place was nominated for Parents' Picks 2010 Best Parenting Blogs and named one of the Highest Rated Blogs and Sites on Nickelodeon ParentsConnect for the Washington, DC area. Follow Jocelyn on Twitter and/or Facebook.