With all the sweat, sunscreen and salt water hitting my skin during the summer months, it becomes especially important to use the right skin and bath care products to ensure my skin stays moisturized, smooth and refreshed.
I am loving the new Nectar line by Noodle & Boo. I'm already a big fan of other Noodle & Boo skincare products, so I was excited to receive these new products for my review! First, I love that Noodle & Boo's skin care products were developed with the allergy-prone skin in mind. I suffer from mild eczema, so these were perfect for me! Second, I love that they are safe for me and my kids as they are free from parabens, BPA, dyes and other questionable ingredients found in many other bath and skincare products. And lastly, they have heavenly scents that leave your skin feeling clean and smelling fresh long after you use or apply them on your skin!
Heavenly Honey Wash
I've been reading a lot lately about natural skin care using fruits, vegetables and honey. Honey has been proven to have so many wonderful benefits for the skin and the reason why it can be found in many skin care products today. So when I found out that Nectar's Heavenly Honey Wash from Noodle & Boo contains honey, I was so excited to try it! I love that this wash is formulated for sensitive skin and is hypoallergenic too – which are qualities I look for in skin care products because of my eczema-prone skin. Another thing is that I know organic lavender and clover are really great to soothe irritated skin – especially after being out in the sun all day! Vitamin E and Provitamin B5 keeps the skin moisturized completely.
Lovely Body Lotion

A "lovely" lotion to use right after lathering myself with Heavenly Honey Wash in my shower or bath is Nectar's Lovely Body Lotion. This lotion absolutely leaves my skin sweetly soft and pampered! I love that it has milk protein, almond oil and clover honey to nourish my skin. Calendula and white tea are also great skin soothers! Add Vitamins C and E to the mix (which are also proven very effective antioxidants) and you got yourself a body lotion that's got it all – skin soother, moisturizer and de-stresser!
Whether you are pregnant or not, women and moms can enjoy all the benefits of gentle, wholesome skin and bath care products that offer optimum results from the Nectar line by Noodle & Boo.
Available online at NoodleandBoo.com and other select luxury department stores, Heavenly Honey Wash ($12) and Lovely Body Lotion ($14) from Noodle & Boo both come in 4.5 oz tubes and are each packaged beautifully – great as mom to-be or new mommy gifts too!
*Hip Mama's Place Disclosure: "My reviews and opinions are 100% my own. I received promotional products from Noodle & Boo necessary to write this review".
Don't miss out on the latest fab deals, cool freebies, fun giveaways, delicious recipes, DIY inspirations and more! Subscribe to the Hip Mama's Place email newsletter, Hip Mama's Place feed reader, or simply "Like" Hip Mama's Place on Facebook and/or follow Hip Mama's Place on Twitter!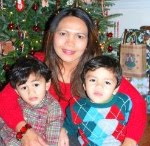 About the Author: Jocelyn Cañasa-Brown is a working mom of two boys and is a recognized blogger and mom influencer in the Washington, DC area. In her spare time, she designs and creates her own handmade jewelry, maintains her jewelry store on Etsy and is an active moms group organizer and leader both online and offline. Hip Mama's Place was nominated for Parents 2011 Best All-Around Mom Blog and named one of the Highest Rated Blogs and Sites on Nickelodeon ParentsConnect for the Washington, DC area. Follow Jocelyn on Twitter, Facebook and Pinterest.