We're just getting into the swing of summer and before we know it, it's back to school again. While we get so busy shopping for school supplies, easing back to school-year schedules and making the transition from summer to school, let's not forget those required back to school vaccinations.

Our family's health is top priority and with school on the horizon, I'm glad that MinuteClinic helps to remind us about getting those back to school vaccinations. Not only are they important for our children's health and will ultimately help us protect our family from potentially serious illnesses, but do you know that many schools and colleges require that students receive vaccinations including meningitis and pertussis (whooping cough) before attending school?


It's great to know that there are convenient MinuteClinic locations (inside CVS Pharmacy stores) that offer a variety of back-to-school vaccinations so that your kids don't miss their first day. I love that you can just walk in a MinuteClinic – no appointment is necessary! It also really helps a lot that they are open 7 days a week to accommodate every parent's busy schedule and that most insurances are accepted! As for school vaccinations, every state's requirements is different, so it's important to get familiar with the required school vaccinations in your state.
Have kids who are leaving home for college? MinuteClinic also makes it easy for them to get college physicals! They make it easy for students to get the paperwork needed for registration. For more information on how college physicals are done, you can go here.

And I know we are still in the middle of summer so if your children are still getting ready for summer camp and sports, MinuteClinic also offers pre-participation sports physicals for just $39 (that's $20 off!). Even if it's not required, it's important to make sure your kids are healthy and safe to participate!
As an added bonus, MinuteClinic is also offering a FREE $22 coupon book with your visit. There is no purchase necessary and it is available while supplies last or through 12/1/14.
For more information, visit MinuteClinic online or on Facebook and Twitter.
*Hip Mama's Place Disclosure: "My reviews and opinions are 100% my own. I participated in a Health & Safety campaign by MinuteClinic and I received a promotional product for my participation".

Don't miss out on the latest fab deals, cool freebies, fun giveaways, delicious recipes, DIY inspirations and more! Subscribe to the Hip Mama's Place email newsletter, Hip Mama's Place feed reader, or simply "Like" Hip Mama's Place on Facebook and/or follow Hip Mama's Place on Twitter!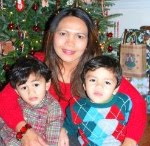 About the Author: Jocelyn Cañasa-Brown is a working mom of two boys and is a recognized blogger and mom influencer in the Washington, DC area. In her spare time, she designs and creates her own handmade jewelry, maintains her jewelry store on Etsy and is an active moms group organizer and leader both online and offline. Hip Mama's Place was nominated for Parents 2011 Best All-Around Mom Blog and named one of the Highest Rated Blogs and Sites on Nickelodeon ParentsConnect for the Washington, DC area. Follow Jocelyn on Twitter, Facebook and Pinterest.