With summer just around the corner, it's time to start switching your hot coffees and teas for something cool and refreshing. But if you're worried about the calorie and ridiculous high sugar content in sodas or margaritas, pick up some tasty Cascade Ice sparkling waters instead!
They just recently launched two new zero-calorie sparkling water flavors – Coconut Pineapple and Coconut Mango! These sparkling waters are not only zero-cal but are also free of those unhealthy "extras" like sugar, sodium, caffeine and gluten. It's definitely a much healthier choice of drink for warm weather enjoyment!
We were recently sent three new flavors of Cascade Ice Zero-Calories sparkling waters to try and I love these so much I'm definitely getting more at my next trip to the grocery store! 🙂
So glad to also share these yummy summer sips to enjoy at your next get-together, courtesy of Cascade Ice!
*For everyone:
Coconut Mango Punch: Start by pouring 2oz grapefruit juice and 5oz of Cascade Ice Coconut Mango in a chilled glass with ice. Stir gently and garnish with some lemon slices. This drink will be great for your next outdoor dinner!
Coco-Pineapple Chiller: It's so easy to mix up this yummy summer drink! In a glass, muddle 4 maraschino cherries and 1.5oz of club soda. Then fill the glass to the top with Cascade Ice Coconut Pineapple. Stir gently to release the flavors and enjoy!
Mango Twist: Make this drink by combining the juice of 2 lemon wedges, 1.5 oz of vodka and 4oz of Cascade Ice Coconut Mango in a chilled glass filled with ice. Stir the contents and garnish the cocktail with a lemon twist. To add flare, start with a sugar rim on the glass.
Cascade Ice is available for purchase in all 50 states, at retailers such as Albertson's, Safeway, Ralph's, QFC, A&P, Raley's, Coborn's, HEB, Market Basket, Shoprite, Food City and Price Choppers, among many others. You can go here to see the full map of retailers that carry Cascade Ice sparkling waters in your area!
*Hip Mama's Place Disclosure:
"My reviews and opinions are 100% my own.
Cascade Ice sent me promotional products to try and facilitate this review
".
Don't miss out on the latest fab deals, cool freebies, fun giveaways, delicious recipes, DIY inspirations and more! Subscribe to the Hip Mama's Place email newsletter, Hip Mama's Place feed reader, or simply "Like" Hip Mama's Place on Facebook and/or follow Hip Mama's Place on Twitter!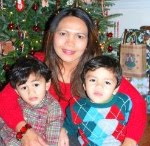 About the Author: Jocelyn Cañasa-Brown is a working mom of two boys and is a recognized blogger and mom influencer in the Washington, DC area. In her spare time, she designs and creates her own handmade jewelry, maintains her jewelry store on

Etsy

and is an active moms group organizer and leader both online and offline. Hip Mama's Place was nominated for Parents 2011 Best All-Around Mom Blog and named one of the

Highest Rated Blogs and Sites

on Nickelodeon ParentsConnect for the Washington, DC area. Follow Jocelyn on

Twitter

,

Facebook

and Pinterest.