Have you all heard about the Maker Faire? It's the Greatest Show (and Tell) on Earth—a family-friendly showcase of invention, creativity and resourcefulness, and a celebration of the Maker movement. It's a place where people show what they are making, and share what they are learning!
Makers range from tech enthusiasts to crafters to homesteaders to scientists to garage tinkerers. They are of all ages and backgrounds. The aim of Maker Faire is to entertain, inform, connect and grow the community.
On Sunday, June 8th, 2014 at 11am to 7 pm, bring your whole family to the fun, family-friendly inaugural DC Mini Maker Faire event at the Yards Park and IdeaSpace DC (at 355 Water Street SE, Washington DC)! Local Do-It-Yourself (DIY) innovation and thousands of attendees of all ages are invited to interact and make with lasers, 3D printers, robots, craft activities and more!
To celebrate makers of all ages, LEGO® Juniors will host a Play, Make & Share experience with thousands of LEGO bricks and invites the community to come play and make with them!
In addition to the LEGO experience, there will be individual DC makers, local Maker and Hacker spaces, museums, DC Public Library, federal and local government, non-profits and academic institutions like Georgetown University to be featured at this event.
This event is free and open to the public!For a list of other exhibitors and activities at this event, please visit: MakerFaireDC/CallForMakers
More FREE Weekend Activities for Kids!

Don't miss out on the latest fab deals, cool freebies, fun giveaways, delicious recipes, DIY inspirations and more! Subscribe to the Hip Mama's Place email newsletter, Hip Mama's Place feed reader, or simply "Like" Hip Mama's Place on Facebook and/or follow Hip Mama's Place on Twitter!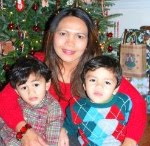 About the Author: Jocelyn Cañasa-Brown is a working mom of two boys and is a recognized blogger and mom influencer in the Washington, DC area. In her spare time, she designs and creates her own handmade jewelry, maintains her jewelry store on Etsy and is an active moms group organizer and leader both online and offline. Hip Mama's Place was nominated for Parents 2011 Best All-Around Mom Blog and named one of the Highest Rated Blogs and Sites on Nickelodeon ParentsConnect for the Washington, DC area. Follow Jocelyn on Twitter, Facebook and Pinterest.