Check out Craftsy and find 36 awesome free online mini craft classes today! You might just find a new skill you've been wanting to try your hands on! They offer basics in sewing, bag-making, photography, gardening, crochet, knitting, baking – even knife skills and how to make the perfect pizzas at home!

Here's a description of this free online mini-class: Perfect Pizza at Home
Stretch your dough and your imagination as instructor Peter Reinhart guides you through each step of making a pizza. You'll make pizza sauces, consider cheese options and bake five types of dough in your conventional home oven. Impress Italian purists with a slice of your Sicilian-style, homemade pies, provide your gluten-free pizza lovers with mouth-watering meals or cook creative flavor combinations for more adventurous palates. Sign up today for Perfect Pizza at Home to learn the secrets of building and baking "the perfect flavor delivery system"!
To see other free online mini classes at Craftsy, go here.
Don't miss out on the latest fab deals, cool freebies, fun giveaways, delicious recipes, DIY inspirations and more! Subscribe to the Hip Mama's Place email newsletter, Hip Mama's Place feed reader, or simply "Like" Hip Mama's Place on Facebook and/or follow Hip Mama's Place on Twitter!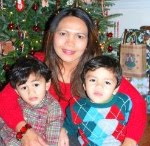 About the Author: Jocelyn Cañasa-Brown is a working mom of two boys and is a recognized blogger and mom influencer in the Washington, DC area. In her spare time, she designs and creates her own handmade jewelry, maintains her jewelry store on Etsy and is an active moms group organizer and leader both online and offline. Hip Mama's Place was nominated for Parents 2011 Best All-Around Mom Blog and named one of the Highest Rated Blogs and Sites on Nickelodeon ParentsConnect for the Washington, DC area. Follow Jocelyn on Twitter, Facebook and Pinterest.