Want to try a few effective at-home remedies without spending a fortune on expensive products? I was recently reading up on many healthy, natural foods that do wonders not only to your health, but also provides a plethora of beauty benefits.
Enter Nature Nate's 100% pure, raw and unfiltered honey.


I'm sure many of you know that honey can also be applied externally to help moisturize, sooth irritations, clear up acne, and even zap away signs of aging. Nature Nate's provides 100% pure, raw and unfiltered honey that maintains the natural enzymes and antibacterial qualities lost in most other honey brands. Combined with commonplace items found in your fridge, food on your face could be the easiest, most effective and natural solution for glowing, healthy skin. Here are a few natural beauty recipes to try at home from nature Nate's. *My personal beauty tip: make sure you are not allergic to any of these ingredients before applying them on your skin!
After years of struggling with acne and dry skin, Lori at
Laurel of Leaves
experimented with this Honey Face Mask once learning about all of the benefits of raw, unfiltered honey. Recommended for daily use for at least two weeks to start, Lori found this regimen to do the trick:
1. Apply thin layer of raw, unfiltered honey to clean face and leave on for 10 minutes to an hour.
2. Rinse off with warm water, pat face dry.
3. Follow with coconut oil to moisturize (coconut oil is antibacterial as well).
An effective remedy against oily skin and acne, this Honey &

Egg White Mask is designed to pull excess oils while also lifting and tightening your skin.

Nature

Nate

's raw, unfiltered honey will soothe any blemishes/irritations while softening the skin. Egg whites have been proven to be astringent, therefore helping with acne and/or oily skin. Oils in the skin are pulled from pores as the egg white dries. This drying agent combined with the moisturizing and antibiotic properties found in raw honey make a perfect defense against acne and oily skin.
1. Combine 2 tablespoons of raw, unfiltered honey with one organic egg white and apply over clean face.
2. Leave mask on skin 10-15 minutes as you feel the egg tighten.
3. Rinse with warm water.
This Lemon-honey scrub makes lips kissably smooth, followed by a coconut oil salve that softens. Lemons, a

natural

skin exfoliator, will give this scrub an extra boost when combined with raw honey and sugar.
1. Mix 1.5 teaspoons raw, unfiltered honey with 1.5 teaspoons sugar and juice from ¼ lemon.
2. Rub over lips with finger in circular motion to exfoliate; rinse.
3. Combine 1 tablespoon of coconut oil, contents of 1 vitamin E capsule and 1 drop lemon essential oil in another bowl.
4. Dab on lips to moisturize. Extras can be kept in the fridge for a week.

Nature Nate's 100% Pure, Raw and Unfiltered Honey products are now available for purchase at www.naturenates.com and come in many bottle sizes. Price ranges from $4.99 for an 8 oz. bottle to $66.99 for one gallon pail.
*WIN IT!

Three (3) of you, lucky Hip Mama's Place readers, will each win a *Nature Nate's gift pack- valued at $31 each!
*Each gift pack will include one (1) 32 oz. and one (1) 40 oz. bottles of Nature Nate's 100% Pure, Raw and Unfiltered Honey– a $31 value!
*CONTEST ENTRY RULES:
To enter this contest and be eligible to win, you MUST FOLLOW ALL (4) four simple steps and earn one (1) entry!

1. "Like" Hip Mama's Place on Facebook
2. Follow Hip Mama's Place on Twitter
3. Follow Hip Mama's Place on Pinterest

4. Leave a comment on this post telling me of other good uses of honey that you know that is beneficial to your skin or health in general. In your comment, YOU MUST also include your Facebook, Twitter and Pinterest user names to verify your participation and your email address to contact you if you win.
EXTRA ENTRY: (Optional only, will count as second entry)

To earn an extra entry for this contest and get a better chance at winning, tweet this giveaway on Twitter however you like, but you must include this link in your tweet:

https://bit.ly/YXmEt5 + all or any of the hashtags #giveaways #honey #skincare #beauty AND our Twitter page: @HipMamasPlace

Example of a tweet:

I want to win a Nature Nate's Honey gift package @HipMamasPlace! https://bit.ly/YXmEt5 #giveaways #honey #skincare #beauty
*Note: Make sure to leave a separate comment on this post with your personal tweet link on Twitter to let me know you've tweeted and to earn your extra entry. You can leave as many comments as you like but steps 1-4will count only as one entry. The EXTRA ENTRY (optional tweeting of this giveaway) will count as your second entry no matter how many times you tweet. There will be a total of only two entries for this contest.
This contest is open to U.S. addresses only and ends on April 19, 2013 at 12MN, EST. Three (3) winners will be picked at random using Random.org at the end of the contest. Good luck!

*Hip Mama's Place Disclosure:
"My reviews and opinions are 100% my own. Nature Nate's sent me the products and provided the prizes necessary to facilitate this review and giveaway contest".
Don't miss out on the latest fab deals, cool freebies, high value coupons, fun giveaways, sweepstakes and more! Subscribe to the Hip Mama's Place email newsletter, Hip Mama's Place feed reader, or simply "Like" Hip Mama's Place on Facebook and/or follow Hip Mama's Place on Twitter!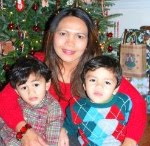 About the Author: Jocelyn Cañasa-Brown is a working mom of two boys and is a recognized blogger and mom influencer in the Washington, DC area. In her spare time, she designs and creates her own handmade jewelry, maintains her jewelry store on Etsy and is an active moms group organizer and leader both online and offline. Hip Mama's Place was nominated for Parents 2011 Best All-Around Mom Blog and named one of the Highest Rated Blogs and Sites on Nickelodeon ParentsConnect for the Washington, DC area. Follow Jocelyn on Twitter, Facebook and Pinterest.