Here's a yummy recipe for your skin – great for brightening it after being over-exposed to all the sun this summer! I could certainly use some skin pampering right now, and this DIY facial mask recipe is just perfect! 🙂
What's Good About Green-Papaya Skin-Brightening Facial Mask:
This brightening mask exfoliates and stimulates circulation in the face, resulting in a warm, rosy glow.
Here's why it works: unripe papaya contains natural alpha-hydroxy acids and high levels of papain, an enzyme that helps dissolve dead skin cells. Yogurt adds lactic acid (another alpha-hydroxy) and gives the mask a creamy texture, and honey helps skin retain moisture. When left on, the mask should tingle slightly; if you have sensitive skin or prefer a gentler exfoliation, use ripe papaya, which has less papain.
Green-Papaya Skin-Brightening Facial Mask Recipe
1/2 cup unripe papaya, diced
1 teaspoon plain yogurt
1 teaspoon honey
Blend ingredients in a food processor until smooth. Apply to clean skin using fingers; leave on for 8 to 10 minutes. Rinse off using cool water and pat dry. Finish by applying a gentle moisturizer.
(Source: WholeLiving.com)
Don't miss out on the latest fab deals, cool freebies, fun giveaways, sweepstakes and more! Subscribe to the Hip Mama's Place email newsletter, Hip Mama's Place feed reader, or simply "Like" Hip Mama's Place on Facebook and/or follow Hip Mama's Place on Twitter!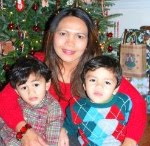 About the Author: Jocelyn Cañasa-Brown is a working mom of two boys and is a recognized blogger and mom influencer in the Washington, DC area. In her spare time, she designs and creates her own handmade jewelry, maintains her jewelry store on Etsy and is an active moms group organizer and leader both online and offline. Hip Mama's Place was nominated for Parents 2011 Best All-Around Mom Blog and named one of the Highest Rated Blogs and Sites on Nickelodeon ParentsConnect for the Washington, DC area. Follow Jocelyn on Twitter and/or Facebook.