This post was sponsored by Build-A-Bear Workshop. All views and text are mine.
"You're never too old for a teddy bear".
So true.
According to a recent survey, more than half of American adults still have their favorite stuffed animal from childhood. The survey of 2,000 adults, completed by Atomik Research and commissioned by Build-A-Bear, uncovered a number of surprising furry-friend findings, including:
The Majority Hugs. Across generations, more than half of all respondents surveyed mentioned they still own a stuffed animal. 40% of respondents sleep with their stuffed animal by their side.
Keepsake Teddy. 56% of respondents have owned (and held onto) their favorite stuffed animal for more than two decades. Additionally, more than 70% said they plan to keep their stuffed animal forever (72%).
Memories of Comfort. 30% of respondents said a feeling of comfort was the first memory that came to mind when thinking about a childhood stuffed animal, followed by the memory of the person who gave it to them (22%), and the stuffed animal's appearance (19%).
Home is Where the Bear Is. Adults living in the southern United States are most likely to have a stuffed animal (75%), followed by residents of the Midwest (72%) and Northeast (70%).
So, I'm so excited to share that on Saturday, September 9, teddy bear lovers are honoring their favorite furry friends during a holiday dedicated especially to them: National Teddy Bear Day!
In honor of the occasion, Build-A-Bear Workshop is inviting teddy bear lovers of all ages to come in and celebrate with a special deal on exclusive teddy bears during a two-day event (Friday, September 8 and Saturday, September 9) offering double the furry-friend fun!
I was invited to visit the Build-A-Bear Workshop near me (located inside my favorite local mall, Potomac Mills) to take a peek of the new "2017 National Teddy Bear" bear. So I went yesterday and brought along my lovely girlfriend Liza and her two adorable kids, Abby and Moses. We had an evening of fun and the kids made their own furry stuffed friends. I have not been to a Build-A-Bear Workshop in a while, so I was amazed at the variety of fun, new adorable merchandise they're offering now even adults will love! A huge plus: the staff at the store were all helpful, sweet, and very accommodating. The kids had a blast during our visit!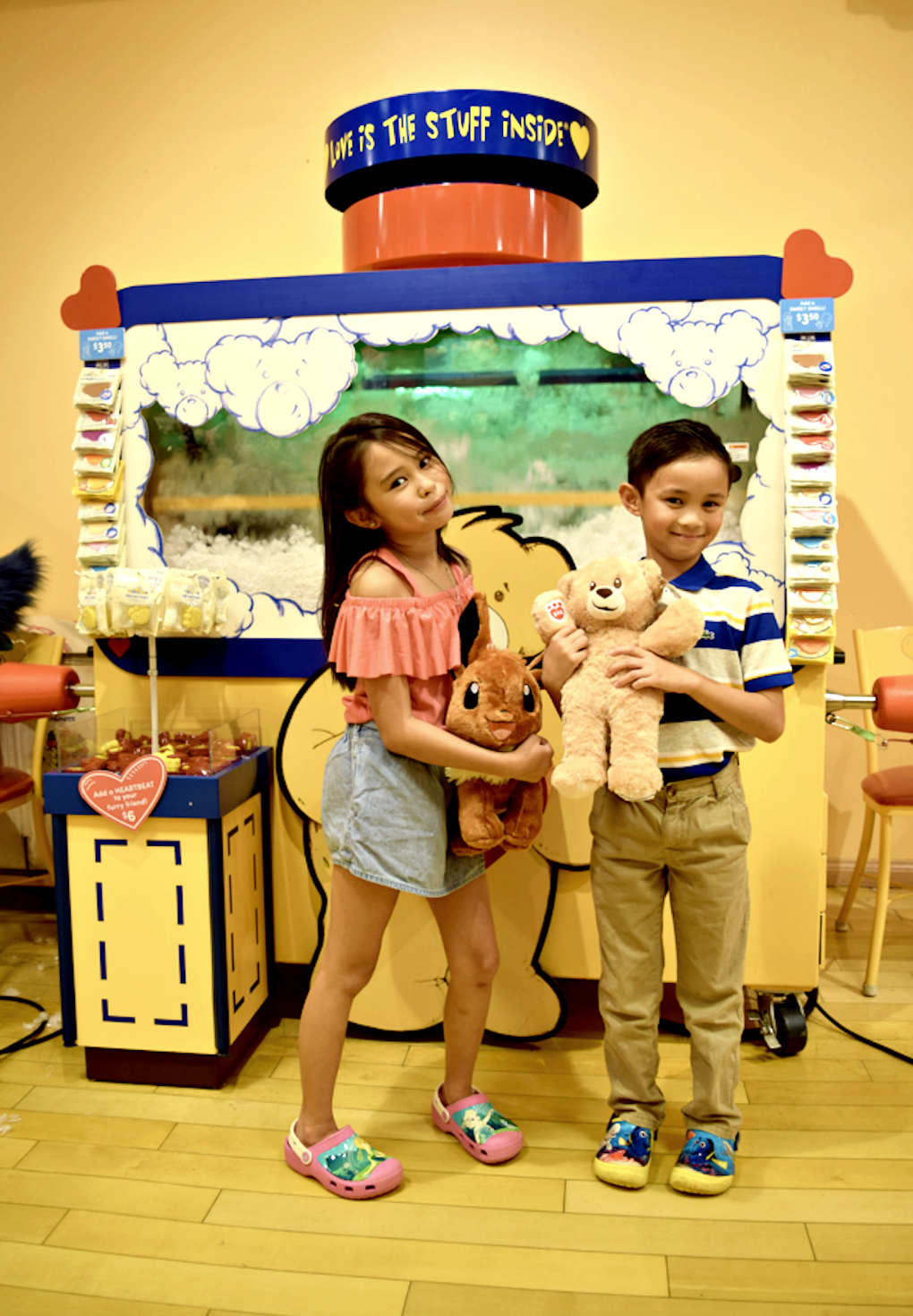 They each picked their favorite furry friend to stuff… so many to choose from!
They also each picked a favorite song they want to stuff inside their new furry friends.
And they got to choose a nice add-on scent to make their furry friends smell nice and stuffed them with little red hearts.
They even got to bathe their new furry friends too!
And finally, they printed their certificates to take home, along with their cute new furry friends!
Special Offer from Build-A-Bear Workshop
To celebrate National Teddy Bear Day, guests of Build-A-Bear Workshop stores can make their own limited-edition National Teddy Bear Day Bear for just $5.50 (USD) / $5.50 (CAD) / £5.50 (GBP), plus applicable taxes, while supplies last. (Purchase limit of five limited-edition bears per Guest.) Build-ABear Workshop will also offer Traditional Cocoa Bear online for $10.50 (USD) / £10.50 (GBP) at buildabear.com and buildabear.co.uk.
In honor of National Teddy Bear Day and the brand's 20th birthday, which will be officially celebrated in October, Build-A-Bear Foundation is donating 20,000 furry friends to Boys & Girls Clubs of America. The Foundation will also donate 1,000 furry friends to Boys & Girls Clubs of Canada, as well as 6,000 furry friends to Childhood First and other children's charities in the United Kingdom. Throughout the National Teddy Bear Day celebration on Sept. 8 and 9, guests of U.S. Build-A-Bear Workshop stores can also donate to Boys & Girls Clubs of America at checkout.
Join the National Teddy Bear Day Fun!
Throughout the week leading up to National Teddy Bear Day, fans can:
∙ Visit buildabear.com/national-teddy-bear-day/ to learn more about the in-store event and find a nearby Build-A-Bear Workshop location
∙ Follow the brand on Facebook, Twitter and Instagram, and share a favorite teddy bear or BuildA-Bear Workshop memory with hashtag #NationalTeddyBearDay and @BuildABear.
Giveaway!
One of you, lucky Hip Mama's Place reader, will win a $100 Build-A-Bear Workshop gift card, good to use towards any purchase at a Build-A-Bear Workshop near you! Contest is open to US addresses only and ends on 09/22/17 at 11:59 PM, EST. Enter the giveaway through the Raffelecopter widget below. Good luck!