The holidays are over. The Christmas tree is down. The year 2010 just ended. Out with the old, in with the new. However you want to put it, there is no denying that 2011 is here! 🙂


New beginnings are always exciting. For me, this rings so true! I'm a newly married gal. For my husband and I, 2010 was a very exciting year.


Not only we've tied the knot, we also got to explore one of the most beautiful countries in the world — Italy.




To top it all off, our family business is growing, and Hip Mama's Place is still kicking! The past year couldn't be any better for our family! 🙂
This year, we vowed to work harder to make things even better for our family: keep the family biz up, get more serious with our personal fitness goals, getting new furniture pieces and appliances for our house, go vacation to at least one nice, new place with our kids this year.. and more.
So bye-bye 2010… we are so grateful for all the blessings.




Hello 2011… may we continue to be courageous and have more energy to do bigger, better things.. keep us and our children healthy and strong and have more resources to do what we want to do whenever.
From our family to yours, HAPPY NEW YEAR 2011! 🙂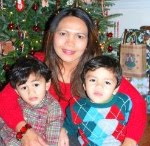 About the Author: Jocelyn Cañasa-Brown is a working mom of two boys and is a recognized blogger and mom influencer in the Washington, DC area. In her spare time, she designs and creates her own handmade jewelry, maintains her jewelry store on Etsy and is an active moms group organizer and leader both online and offline. Hip Mama's Place was nominated for Parents' Picks 2010 Best Parenting Blogs and named one of the Highest Rated Blogs and Sites on Nickelodeon ParentsConnect for the Washington, DC area. Follow Jocelyn on Twitter and/or Facebook.