I just received a head's up from the Borders® peeps that they've launched their new eBook Store this week and they're offering five top-selling books- TOTALLY FREE! (Valued at more than $40!)
Yes, you read that right! 🙂
Beginning this Friday, July 9th through Sunday, July 11th, anyone who downloads a free Borders app on their iPad, iPhone and a variety of BlackBerry® and Android devices will get these top-selling books:
1. Dean Koontz's "Frankenstein: Prodigal Son"

2. "One Shot" by Lee Child

3. "The Alchemyst" by Michael Scott

4. Julia Child's "Kitchen Wisdom"

5. "Master your Metabolism" by Jillian Michaels
The free Borders app, powered by Kobo, can be downloaded free of charge! Additionally, Borders is offering exclusive content that readers can currently find only through their app — chapter 6 of Danielle Steele's upcoming novel, "Legacy," which hits shelves September 28th.
So what are you waiting on? If you live within the U.S. 50 states, this free Borders app is available to you! CLICK HERE for more details.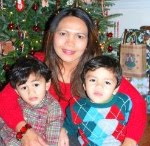 About the Author: Jocelyn Duncan is a working mom of two boys and is a recognized blogger and mom influencer in the Washington, DC area. In her spare time, she designs and creates her own handmade jewelry, maintains her jewelry store on Etsy and is an active moms group organizer and leader both online and offline. Follow Jocelyn on Twitter and/or Facebook.