My kids and I were just watching Shark Week on Discovery Channel last week. It was pretty amazing how sharks live. My eight year old bombarded us with a lot of questions about sharks while watching a few of the shows.
Well, what perfect timing! We also just received a copy of the new book Sharkopedia: The Complete Guide to Everything Shark for our review. And since we don't always have the 'informed' answers, this book came in very handy too! 🙂
If you and your kids want to learn about the coolest facts about the world's most astonishing and feared creatures (sharks)- then, this book is "it"! My kids were totally captivated by this full-color book which boasts 192 pages of information about the nearly 500 species of sharks. The vivid photos (400 total) really help with how the facts are laid out. The book is totally mesmerizing and my kids love their new Shark book! (And I love it for our home library!) 🙂
Sharkopedia: The Complete Guide to Everything Shark book chapters cover topics such as:
·

Shark

Anatomy and Senses –Explore

shark

parts, skin, muscles, fins, gills, hearing, taste and touch.
·

Feeding Habits – What's the name of the

shark

that takes small, cookie shaped bites out of its prey?
·

Record Breakers – Which

shark

can live over 200 years?
·

Shark

Behavior – Do

sharks

sleep?
·

Shark

Conservation – Rather than being afraid of

sharks

, people should be afraid for

sharks

, as their populations are seriously threatened. Scientists, legislators and advocates—people who love

sharks

—are working to protect

sharks

in many ways.
The book also includes an introduction and special contributions from shark expert and marine biologist Andy Dehart, a regular contributor to Discovery's popular week-long TV event, Shark Week.

Sharkopedia (Time Home Entertainment, Inc.; $19.95 US) is available at www.sharkopedia.com and wherever books are sold.


*Hip Mama's Place Disclosure:
"My reviews and opinions are 100% my own. Time Home Entertainment sent me a copy of the book to facilitate this review".
Don't miss out on the latest fab deals, cool freebies, high value coupons, fun giveaways, sweepstakes and more! Subscribe to the Hip Mama's Place email newsletter, Hip Mama's Place feed reader, or simply "Like" Hip Mama's Place on Facebook and/or follow Hip Mama's Place on Twitter!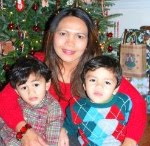 About the Author: Jocelyn Cañasa-Brown is a working mom of two boys and is a recognized blogger and mom influencer in the Washington, DC area. In her spare time, she designs and creates her own handmade jewelry, maintains her jewelry store on Etsy and is an active moms group organizer and leader both online and offline. Hip Mama's Place was nominated for Parents 2011 Best All-Around Mom Blog and named one of the Highest Rated Blogs and Sites on Nickelodeon ParentsConnect for the Washington, DC area. Follow Jocelyn on Twitter, Facebook and Pinterest.