Keep your kids mentally engaged and stimulated all throughout the summer break with these free Summer reading programs! Some of these places even offer great incentives such as free books, a backpack, tokens, posters, craft items and more – to get your kids more motivated to read!

American Girl: Girls ages 8 and up will have fun at this craft and summer reading event! Your girl will decorate her own bookmark and summer reading log to keep track of all the great books she'll read over break. Includes a doll-sized poster to take home.

Barnes & Noble Summer Reading Program: Kids in grades 1st-6th can read 8 books and record them in this Reading Journal. Once your child completes his/her journal, just bring it to any Barnes & Noble bookstore, and your child can choose a FREE book from their selection on the Reading Journal list. Also, check out the Barnes & Noble FREE online storytime for more fun and free summer activities and reading suggestions for your little ones!

Book Adventure: This fun, free online reading program by Sylvan is a great way to motivate your child to read this Summer! Kids in grades K-8 can search for books, read them offline, come back to quiz on what they've read, and earn prizes for their reading success. Nice prizes await the participants like a 3-month subscription to Highlights magazine, books, a candy bar, temporary tattoos and more!

Books-A-Million: Kids read six books on their summer reading form and receive a backpack (while supplies last). The reading form doesn't reflect the 2014 dates yet, but check back here later to see the updated form.

Book IT! by Pizza Hut Summer Reading Program: Starting June 1st-August 15th, each time your child reads 5 books, he/she can enter to win fantastic prizes such as a tote bag, Pizza Hut gift card, Diary of a Wimpy Kid Books and more!

Book IT! by Pizza Hut for Homeschooling Families: Through September 1st, you can request free BOOK IT! materials for the 2014-15 Pizza Hut BOOK IT! Program. BOOK IT! Materials may also include coupons for FREE Personal Pizza Hut Pan pizzas. What a great incentive!

Chuck E. Cheese: Here's a great way to reward your children for good accomplishments! You can download and print out the calendar, mark off days with a pen or sticker as your child accomplishes his/her goals, and then bring in the completed calendars to Chuck E. Cheese's to receive 10 free tokens as a reward. There are lots of cool calendars to print such as "Great Behavior", "Good Eater" and "Reading Rewards".

Education.com: This is my favorite site for anything educational activities for my kids! Check out this site for fantastic suggestions on creating your own Do-It-Yourself Summer Reading Camp offering a new theme each week for 10 weeks.

Half Price Books Summer Reading: Kids ages 14 and under must read for at least 15 minutes each day for a month (grown-ups may read aloud to kids who are still learning), add up their minutes and have their parent or guardian initial each week. Once kids read a total of 300 minutes, they can turn in their completed summer reading log at HPB to earn a $5 HPB Bookworm Bucks reading reward for the month. HPB will also award one top reader per age group each month with a prize – a $20 HPB Gift Card! I love that the site also offers some really cool tips for us parents to think of fun, family rewards to encourage our kids to read!

PBS Kids: Check out the Reading & Language section of this website which offers ways for kids to have fun with literacy using great tips, activities and resources to help build literacy skills in your child in everyday activities, creating a literate home and tons of ideas on how to help your child become a confident reader!

Pottery Barn Kids: From May 15- July 31st, kids are invited to read 8 books from the PBK Summer Reading list and kids can earn a FREE book! Plus every Tuesday from 11 a.m.-11:30 a.m. there is a Pottery Barn Kids Story Time where members receive an official Book Club Passport at their first story time, plus a special FREE gift after attending five story times. Kids will also enjoy healthy snacks, character appearances, and activities and giveaways from PBS Kids.

Scholastic: This year's theme for the Scholastic Summer Reading Challenge is "Reading Under the Stars!" Kids will unlock constellations and learn fun facts about space as they reach reading milestones every week. This summer, Scholastic has joined together with EVEREADY®, the maker of batteries and flashlights, to power the Summer Reading Challenge and encourage families to create fun reading adventures outside. If you're in the Washington, D.C. area, check out the Smithsonian Sleepovers at the National Museum of Natural History that I wrote about here – that incorporates Scholastic's "Reading Under The Stars" to motivate kids to get excited to read!

TD Bank Summer Reading Program: Not only you're encouraging kids to read this summer, you're also teaching them the importance of saving money. Get your kids to read 10 books this summer, then print out the Summer Reading Form and have your kids write down the names of the books they've read. When done, take the form to the nearest TD Bank and receive $10 in a new or existing Young Saver account. Find a TD Bank near you!

And lastly, don't forget to check your local libraries for free summer reading programs, story times and other fun learning activities for the whole family! I just checked our local library and there are tons of great summer offerings for kids and adults of all ages such as crafts, story times, book clubs and even Friday Flicks (family-friendly movies)!
Don't miss out on the latest fab deals, cool freebies, fun giveaways, delicious recipes, DIY inspirations and more! Subscribe to the Hip Mama's Place email newsletter, Hip Mama's Place feed reader, or simply "Like" Hip Mama's Place on Facebook and/or follow Hip Mama's Place on Twitter!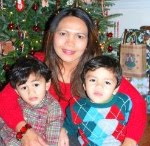 About the Author: Jocelyn Cañasa-Brown is a working mom of two boys and is a recognized blogger and mom influencer in the Washington, DC area. In her spare time, she designs and creates her own handmade jewelry, maintains her jewelry store on Etsy and is an active moms group organizer and leader both online and offline. Hip Mama's Place was nominated for Parents 2011 Best All-Around Mom Blog and named one of the Highest Rated Blogs and Sites on Nickelodeon ParentsConnect for the Washington, DC area. Follow Jocelyn on Twitter, Facebook and Pinterest.