Last year, while looking for some ideas online to help my 2nd grader with Math practice exercises that we can do at home, I stumbled upon BedtimeMath.org. It's really inspiring to see a site purely dedicated to helping kids who struggle with Math and numbers. I've since recommended this site to my friends after finding the daily Math ideas and activities very helpful. I even signed up for their daily newsletter and that too, has a lot of helpful information and great ideas on how to incorporate Math problems in your child's daily routines or activities.. or places you go or things you do together as a family.. so you can use those experiences as (Math) learning opportunities for your child and more!
So when I was contacted to review their very first Math book, Bedtime Math: A Fun Excuse to Stay Up Late by Laura Overdeck, I readily accepted the offer. My eight year old Gabriel- who loves Math and numbers, really love this book! This book is a chocful of kid-friendly, never boring math problems and puzzles your kids will truly have fun tackling. There are over 100 math riddles on topics from submarines to roller coasters and flamingos and more! You can even choose from three different levels of challenge – wee ones, little kids, and big kids – pick one that's appropriate for your kids' age or learning level.
Math and numbers need not be dry and intimidating for your child. Bedtime Math aims to make math a fun part of kids' everyday lives! For me and my soon to-be 3rd grader, this book is nothing short of amazing! The Math riddles and problems in this book are also great conversation starters with your child at bedtime or at any time of the day!
I will be giving away a copy of this book during the Back To School Giveaway event here at Hip Mama's Place come August! Stay tuned for more details soon.
Bedtime Math: A Fun Excuse to Stay Up Late is now available at your leading book retailers and at Amazon.com for $14.99.

Title: Bedtime Math: A Fun Excuse to Stay Up Late
Author: Laura Overdeck
Illustrated by Jim Paillot
ISBN: 978-1-250-03585-1
Suggested Retail: $14.99 US
Release Date: June 25, 2013, Published by Macmillan
*Hip Mama's Place Disclosure: "My reviews and opinions are 100% my own. Macmillan provided me a copy of this book necessary to facilitate my review".
Don't miss out on the latest fab deals, cool freebies, high value coupons, fun giveaways, sweepstakes and more! Subscribe to the Hip Mama's Place email newsletter, Hip Mama's Place feed reader, or simply "Like" Hip Mama's Place on Facebook and/or follow Hip Mama's Place on Twitter!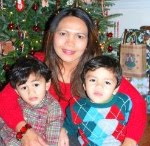 About the Author: Jocelyn Cañasa-Brown is a working mom of two boys and is a recognized blogger and mom influencer in the Washington, DC area. In her spare time, she designs and creates her own handmade jewelry, maintains her jewelry store on Etsy and is an active moms group organizer and leader both online and offline. Hip Mama's Place was nominated for Parents 2011 Best All-Around Mom Blog and named one of the Highest Rated Blogs and Sites on Nickelodeon ParentsConnect for the Washington, DC area. Follow Jocelyn on Twitter, Facebook and Pinterest.