August is Back to School Safety Month, and

the

National Highway Traffic Safety Administration (NHTSA) is helping by giving parents and caregivers the facts they need to keep their kids safe. This includes pedestrian safety, bicycle safety, and, most of all, school bus safety. Ensuring that your children are aware of what to do to remain safe during their school commute, can prevent them from being involved in an accident. However, regardless of how safe your child is, they could still be involved in an incident, but through no fault of their own. As a result, they may suffer from severe injuries. If this should happen, looking to get in touch with professionals, similar to this Personal Injury Attorney in Clearwater, can help you to make a claim and to receive compensation for this devastating situation. The likelihood of your children being involved in an accident could be greatly reduced if they know what is safe and what isn't. With the tools and resources available on their website, being safe is as easy as ABC.
Here are some basic safety tips:
Pedestrian Safety
-Teach kids to always look left, right, and then left again before crossing a street. Keep to a sidewalk and crosswalk to be visible to drivers. Have your child walk with an adult or with a group of children whenever possible. More tips available here and with the Getting There Safely video here.
Bicycle Safety
-Make certain the helmet and the bike are the right fit. Before every ride, check the ABCs of bike safety: Air, Brakes, Chain. When crossing the street with a bike, have your child walk the bike across when it is safe to do so. Find more tips on biking and watch their new safety videos.
School Bus Safety
-The greatest danger involving school buses isn't riding a bus: it's the school bus stop. Make certain there's six feet (three big steps) between your child and the curb. Teach your child about the "danger zone" – 10 feet in front of, behind, and on each side of the bus. More safety tips are available here.
Kids can learn before they set foot in school this fall, and these resources can teach them basic safety tips to keep them safe every day. No matter whether they're walking, biking, or riding to school, now's a great time to talk to kids about all three and give them the best safety practices they need to know.
You can also visit Parents Central for more info and tips on everything from car seats to teen drivers. And for more valuable tips on vehicle and child safety, join the NHTSA conversations on Facebook and Twitter.
Don't miss out on the latest fab deals, cool freebies, high value coupons, fun giveaways, sweepstakes and more! Subscribe to the Hip Mama's Place email newsletter, Hip Mama's Place feed reader, or simply "Like" Hip Mama's Place on Facebook and/or follow Hip Mama's Place on Twitter!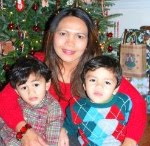 About the Author:
Jocelyn Cañasa-Brown is a working mom of two boys and is a recognized blogger and mom influencer in the Washington, DC area. In her spare time, she designs and creates her own handmade jewelry, maintains her jewelry store on
Etsy
and is an active moms group organizer and leader both
online
and offline. Hip Mama's Place was nominated for
Parents 2011 Best All-Around Mom Blog
and named one of the
Highest Rated Blogs and Sites
on
Nickelodeon ParentsConnect
for the Washington, DC area. Follow Jocelyn on
Twitter
,
Facebook
and Pinterest.