We got about three more weeks left of summer vacation. Honestly, my family isn't done with summer vacations just yet. We're still heading to Myrtle Beach (South Carolina) next week to enjoy the last days of summer before my kids head back to school. And I'm so glad I received these new books for them from Candlewick Press. Perfect to wind down the summer and help my kids get back on their back-to-school mode! 🙂
And what a perfect time to talk about books because today is National Book Lovers Day! And here at Hip Mama's Place, we're celebrating by offering you all, our dear readers, the chance to own all of these new, fresh Fall picks from Candlewick Press .. a great way to kick off the new school year as well. Now, we've got a lot of great reading to do! 🙂

Peppa Pig and the Busy Day at School
by Candlewick Press, Illustrated by Ladybird
June 2013 | HC: 9780763665258 | $12.99 | Ages 2-5 | 32 pages
Peppa Pig is back! Get ready to join her on a new adventure starring the beloved, award-winning U.K. sensation. Peppa is having a busy day at school—learning numbers and letters, painting, making music, and playing outside. Peppa can't wait for Special Talent time, but her excitement turns to worry when all three of her special talents are chosen by others!
Bobbo Goes to School
by Shirley Hughes
March 2013 | HC: 9780763665421 | $16.99 | Ages 3-5 | 32 pages
In the newest book by two-time Greenaway Medalist Shirley Hughes, Lily's stuffed dog, Bobbo, accidentally gets trapped on a bus headed for school! Lily's not old enough for school yet, but will she rescue Bobbo and discover that school is actually much more exciting than she thought?
Joe and Sparky Go to School
by Jamie Michalak, Illustrated by Frank Remkiewicz
June 2013 | HC: 9780763662783 | $15.99 | Ages 5-7 | 48 pages
The goofy animal pals are back! This time, they're headed to school for a fun-filled day of learning in Jamie Michalak's third book about Joe the Giraffe and Sparky the Turtle, an unlikely pair of best friends. Readers will roll over laughing—and find lots to relate to—in this hilarious new adventure.
How Did That Get Into My Lunchbox?
by Chris Butterworth, Illustrated by Lucia Gaggiotti
February 2013 | PB: 9780763665036 | $7.99 | Ages 5-8 | 32 pages

It's easy to forget where all our food comes from—especially once the hustle and bustle of back-to-school begins! Luckily, Chris Butterworth is here to provide answers to curious youngsters in this relevant, colorful story and the American Farm Bureau's book of the year.

Mesmerizing Math
By Jonathan Litton, Illustrated by Thomas Flintham
September 2013 | HC: 9780763668815 | $18.99 | Ages 7-10 | 16 pages

An interactive, engaging and exciting exploration of math! Clear, humorous text, bright illustrations and interactive novelties help explain topics including numbers, geometry, probability, transformations and statistics. The focus is on making math accessible and exciting, so each topic has an investigation for young numbersmiths to try at home.
Electrical Wizard
By Elizabeth Rusch, Illustrated by Oliver Dominguez
September 2013 | HC: 9780763658557 | $16.99 | Ages 7-10 | 40 pages
Move over, Thomas Edison! Nikola Tesla takes the spotlight in a biography of the man who pioneered modern electrical engineering—and changed the course of history. From using alternating current to light up the Chicago World's Fair to harnessing Niagara to electrify New York City and beyond, Nikola Tesla was a revolutionary ahead of his time.
Bluefish
by Pat Schmatz
April 2013 | PB: 9780763663414 | $6.99 | Ages 12 and up | 240 pages

A highly acclaimed ALA award-winning novel, Bluefish tells the story of a thirteen-year-old boy learning to read. With the perfect blend of humor, gravity, and hope, Schmatz meditates on the role of teachers, books, and learning in everyday life.
These new book titles from Candlewick Press are now available for purchase at your leading book retailers and at Amazon.com.
*WIN IT!

One of you, lucky Hip Mama's Place readers, will win all seven (7) book titles listed above, courtesy of Candlewick Press!
*CONTEST ENTRY RULES:
To enter this contest, you MUST FOLLOW ALL (4) four simple steps to earn your entry!
1. "Like" Hip Mama's Place on Facebook

2. Follow Hip Mama's Place on Twitter

3. Follow Hip Mama's Place on Pinterest
4. Leave a comment on this post what you will do to make your transition to back-to-school easier for you (as a parent) and your kid/s. In your comment, please include your Facebook, Twitter and Pinterest user names to verify your participation and your email address to contact you if you win.
This contest is open to U.S. addresses only and ends on August 24, 2013 at 12MN, EST. One (1) winner will be picked at random using Random.org at the end of the contest. Good luck!


*Hip Mama's Place Disclosure:
"My reviews and opinions are 100% my own. Candlewick Press sent me copies of the books and provided the prizes necessary to facilitate this review and giveaway post".


Don't miss out on the latest fab deals, cool freebies, high value coupons, fun giveaways, sweepstakes and more! Subscribe to the Hip Mama's Place email newsletter, Hip Mama's Place feed reader, or simply "Like" Hip Mama's Place on Facebook and/or follow Hip Mama's Place on Twitter!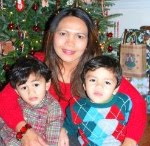 About the Author: Jocelyn Cañasa-Brown is a working mom of two boys and is a recognized blogger and mom influencer in the Washington, DC area. In her spare time, she designs and creates her own handmade jewelry, maintains her jewelry store on Etsy and is an active moms group organizer and leader both online and offline. Hip Mama's Place was nominated for Parents 2011 Best All-Around Mom Blog and named one of the Highest Rated Blogs and Sites on Nickelodeon ParentsConnect for the Washington, DC area. Follow Jocelyn on Twitter, Facebook and Pinterest.