If you're interested in joining a fab Twitter party later today, check out this one from Land's End! You'll be able to score some great giveaways, plus lots of helpful advice and tips for back to school shopping and stylish outfit ideas!

There is one thing parents and kids can agree on: a first day of school outfit is important. To celebrate the back to school season, Lands' End will host a #FirstDayFaves Twitter Party on Tuesday, August 5th, from 12:00 p.m. until 2:00 p.m. EDT, at #FirstDayFaves. During the two hours of fun, participants will have the opportunity to receive style and shopping advice and the chance to win great giveaways.
Date:
Tuesday, August 5th, 20
Time:
12 p.m. – 2 p.m. EDT
Follow: Twitter:
@LandsEndPR
#FirstDayFaves Twitter Event Highlights

From great giveaways to great first day of school outfit ideas from Lands' End, the two hours of the #FirstDayFaves Twitter Event will be full of excitement.
Chat with a School Uniform Expert – From

12 p.m. – 1 p.m. EDT

, Mom and blogger Rene Shonerd of Uniform Mom (@NavyPlaid) will provide tips and tricks for making back-to-school dress code and school uniform shopping a breeze. Rene will be on hand to answer questions about uniformsand other back-to-school essentials.
Get Advice for Making School Shopping a Breeze – Join @KidzVuz and Mom bloggers Melissa Angert of All Things Chic (@MelissaAngert) and Diane Nassy of PhilZENdia (@philZENdia) for a chat about must-have back-to-school clothes, gear and trends from

1 p.m. – 2 p.m. EDT

.
Great Giveaways – The two hours will be filled with helpful shopping tips, outfit inspiration and giveaways. Join us on Twitter for a chance to win great back-to-school items from Lands' End.
Don't miss out on the latest fab deals, cool freebies, fun giveaways, delicious recipes, DIY inspirations and more! Subscribe to the Hip Mama's Place email newsletter, Hip Mama's Place feed reader, or simply "Like" Hip Mama's Place on Facebook and/or follow Hip Mama's Place on Twitter!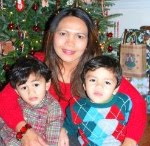 About the Author: Jocelyn Cañasa-Brown is a working mom of two boys and is a recognized blogger and mom influencer in the Washington, DC area. In her spare time, she designs and creates her own handmade jewelry, maintains her jewelry store on Etsy and is an active moms group organizer and leader both online and offline. Hip Mama's Place was nominated for Parents 2011 Best All-Around Mom Blog and named one of the Highest Rated Blogs and Sites on Nickelodeon ParentsConnect for the Washington, DC area. Follow Jocelyn on Twitter, Facebook and Pinterest.