Back-to-School transition is easier with Boston Market Family Meals! This post is sponsored by BabbleBoxx.com on behalf of Boston Market.
With school back in session, I know it can become a challenge to get used to new and sometimes conflicting schedules and competing demands that need to be crammed into the day's schedule.
As a busy parent myself, one of those challenges is getting a nutritious, healthy meal my family will love, especially on this busy back-to-school season. Let's get real. We don't always have the time or energy to prepare and cook a homemade meal every single night.
Thanks to Boston Market, serving up home-style family meals on the table in no time has never been easier!
If you're looking for a convenient, high quality food at a great value, Boston Market won't disappoint. They have home-style family meals everyone can enjoy, which you won't find often in other fast food restaurants. You can pick between Rotisserie Chicken, Meatloaf and Roasted Turkey for an entree and then you got these yummy sides: Mashed Potatoes, Mac & Cheese, Sweet Corn, Fresh Steamed Vegetables, Garlic Dill New Potatoes, Sweet Potato Casserole, Caesar Side Salad and more! Depending on the size of your family, you can order meals for up to 6 people. If you love a nice deal like I do, you can also snag a whole rotisserie chicken for just $1.99 when you purchase any Family Meal between now and October 27!
You can also get a FREE whole pie with a purchase of a family meal at Boston Market now through October 13, 2019 using the coupon below or the coupon code: 36992.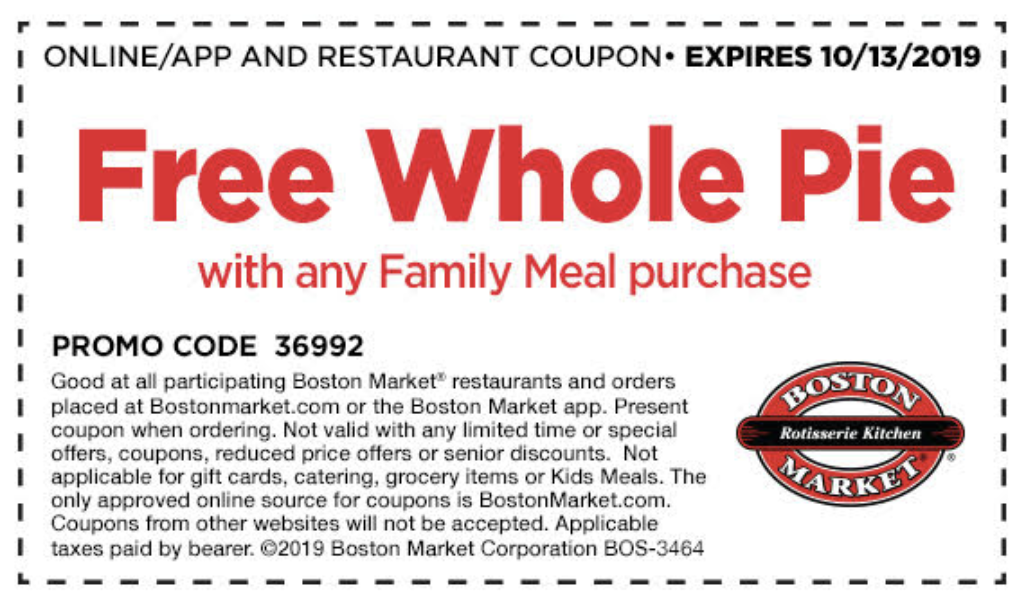 Placing an order is easy too with online ordering at BostonMarket.com or through the Boston market app. Then you can either choose a curbside pickup or home delivery.
A few dinners ago, my husband picked up the Family Meal for 5 for us which included 1 1/2 Rotisserie Chickens and 5 sides with 5 cornbread.
We all enjoyed a delicious, satisfying meal and mommy enjoyed a night off from the kitchen too! 🙂
There's also the Boston Market Rotisserie Rewards – a new loyalty dining program that's available via the new Boston Market mobile app for iOS and Android or online at BostonMarket.com. This exciting and free loyalty program lets you earn points with each purchase that can be redeemed for free food and other exciting prizes – like a free holiday meal for 12 or even a one-ton helping of any world famous sides available from Boston Market!
So, when you need to take a night off from the kitchen, go order your family a delicious, home-style meal from Boston Market. With so many options to choose from, there's bound to be a family meal to fit your budget and that your whole family will love!
LIKE THIS POST? PIN IT HERE!
You Might Also Like…