I have a lot of excitement in the past few weeks. One of it is being chosen to participate as an Aquafina FlavorSplash Mom Ambassador by Mom Central. I was so thrilled when I received this wonderful news! Not only do I get to enjoy the perks (Aquafina Flavorsplash samples, coupons and goodies from Aquafina to try them for myself and to share with family and friends), I also get to attend the Aquafina Flavorspalash Event at the Red Maple Restaurant and Lounge in Baltimore (Maryland) this Thursday night. Plus, it's always fun to connect with other mom bloggers on the Mom Central forum. Yes, we have a private group exclusive for Aquafina FlavorSplash Mom Ambassadors. Isn't that cool? 🙂
So this week is the start of my six-week journey as an Aquafina FlavorSplash Mom Ambassador. Each week, I get to taste test a new Aquafina FlavorSplash flavor and I will do my best to share a healthy tip or two relating to water intake and the flavor of the week. Then on the final week, I will include a nice giveaway package to one of you, lucky Hip Mama's Place reader, to include a few Aquafina coupons and lip balms to enjoy for yourself and share with family and friends! 🙂
This week, the Aquafina FlavorSplash flavor theme is Wild Berry.
I personally do not prefer flavored water over regular bottled water. But I can tell you outright- when I first tasted the Aquafina FlavorSplash Wild Berry, it was an instant favorite! I always love eating natural berry fruits so tasting them in water is not a problem at all for me. I love the light hint (not strong) of wild berry flavor in this water. Even my honey and my kids love it too! Funny, my four year old already asked me if we can get them at the store if we run out of the free six-pack we received. (As if afraid that we won't have them ever again, lol). 🙂
*Water and the Human Body:
As we all know, water makes up the main chemical component of our body: about 60% of the body mass, 75% of the brain, 82% of the blood and nearly 90% of the lungs. As a result, not drinking enough water can lead to dehydration which adversely affects the way our body functions. Next to oxygen, water is our body's most important nutrient. It helps deliver important nutrients throughout the body cells, aid in waste removal, cushioning the joints and protecting organs and tissues.
*Health Tips:
The International Bottled Water Association (IBWA) offers these helpful tips on how you can incorporate drinking water in your daily activities and help you improve your daily water intake:
*Start and end your day with water.
*Don't wait until you are thirsty to drink water.
*Your body loses water while sleeping, so drink a glass of water before going to bed and upon waking up.
*Make it easy by carrying a bottled water while commuting to work or running errands.
*Help your children drink enough water throughout the day. They need water to balance their intake of other beverages- especially during activities.
Wow. I know that sounds like a lot to remember but hey, I'm writing this post to remind myself about my not-so-perfect water drinking habits too. I'm improving. 🙂
Aquafina Flavorsplash comes in 6 yummy flavors: Grape, Wild Berry, Strawberry Kiwi, Raspberry, Lemon and Peach Mango. Try them now and download a coupon good towards $1 off a 6-Pack of Aquafina FlavorSplash HERE.
Hip Mama's Place Disclosure: "I am a participant in a Mom Central campaign for Aquafina FlavorSplash and have received various FlavorSplash samples to facilitate my participation. Mom Central will send me a gift card at the end of the program."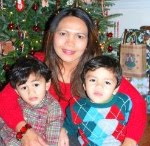 About the Author: Jocelyn Duncan is a working mom of two boys and is a recognized blogger and mom influencer in the Washington, DC area. In her spare time, she designs and creates her own handmade jewelry, maintains her jewelry store on Etsy and is an active moms group organizer and leader both online and offline. Follow Jocelyn on Twitter and/or Facebook.