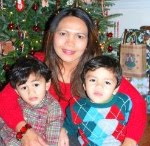 A couple months ago, I wrote about why we switched to Verizon FiOS for our cable tv, internet and home phone service. It's now been two months since we've had FiOS and so far, so good.
For this post, I'm sharing with you all another great reason why we love Verizon FiOS: Flex View! How does it work? With Flex View, you can now access the movie on demand you rent or buy and watch them wherever you go- on your pc, laptop or on your smartphone. Let's say you're watching the latest chick flick on tv that you just bought on demand, but you only got ten minutes left and you have to leave the house for an appointment. Flex View lets you continue enjoying your movie on your smartphone while you're out. Now how cool is that?
This short video explains further how Verizon FiOS Flex View works and how you can set it up. What's really neat is that it doesn't cost us an extra monthly charge on our bill! It's a totally free, cool feature from FiOS!
Now, I admit I'm not much of a technology savvy gal. So I asked my husband that we fiddle with Flex View a little bit to see how it really works and if we really like this feature. Turns out, it wasn't that hard at all. First, you have to download the free Media Manager app in order to buy, rent, download and watch Flex View videos on your pc. The download was super easy and only took a few minutes to set up. I tried watching Something Borrowed from my tv to my laptop and I can say, it's a really cool feature. Now, if you want Flex View on your mobile device, you also need to download the free Verizon FiOS On Demand app on your phone to buy, rent, download, and watch Flex View videos on it. I think that this feature is great for those long drives when you want to entertain the kids in the car with their fave movies on demand. I can see how you could use your laptop or smartphone to entertain them with the cool Flex View feature!
Another thing I love since switching to Verizon FiOS is our internet connectivity– it hasn't been this real "high speed" before! I do a lot of work online, so I do need my internet connection lightning fast. Verizon FiOS definitely has made work and life easier for me and my family by doing what it promises to do: provide us with the best quality tv, internet and home phone service. There is no room for complaints here.
Please note that Verizon FiOS is only available in select parts of the country, check here to find out if it's available in your area.
Hip Mama's Place Disclosure: "I wrote this review while participating in a Test Drive campaign by Mom Central on behalf of Verizon FiOS and received a free trial of the products and services necessary to facilitate my review".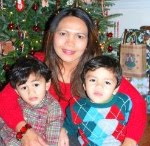 About the Author: Jocelyn Cañasa-Brown is a working mom of two boys and is a recognized blogger and mom influencer in the Washington, DC area. In her spare time, she designs and creates her own handmade jewelry, maintains her jewelry store on Etsy and is an active moms group organizer and leader both online and offline. Hip Mama's Place was nominated for Parents 2011 Best All-Around Mom Blog and named one of the Highest Rated Blogs and Sites on Nickelodeon ParentsConnect for the Washington, DC area. Follow Jocelyn on Twitter and/or Facebook.