"Pumpkin spice and everything nice" are literally in this pumpkin s'mores cheesecake bars recipe! These creamy, light pumpkin cheesecake bars are topped with all your favorite s'mores ingredients – my family's new favorite fall dessert!  
Do you feel that slight chill in the air? It is subtle, but it's there! The seasons are slowly changing and fall is finally on the way. Fall is one of my favorite times of year. The colorful changing leaves, the beautiful crisp weather and, of course, pumpkin spice everything.
It's true that I can never get enough pumpkin spice. Are you a pumpkin spice lover too? If you are, then you are going to go crazy for these incredible pumpkin s'mores cheesecake bars. They are like your favorite pumpkin pie recipe and s'mores treat rolled into one incredible dessert. They are the perfect dessert to say goodbye to summer campfires and hello to everything pumpkin. I promise that you will fall in love with this perfect pumpkin cheesecake bars recipe!
We love our Caramel Crunch Pumpkin Ice Cream and the Pumpkin Oatmeal Chocolate Chip Bars in the fall too and these yummy pumpkin cheesecake bars are definitely a fresh, new addition to our top favorite fall desserts!
Ingredients for Pumpkin S'mores Cheesecake Bars
If you have left over s'mores ingredients from the summer, making pumpkin s'mores cheesecake bars is a great way to use them up. Here is a quick look at the ingredients you will need to make this tasty dessert: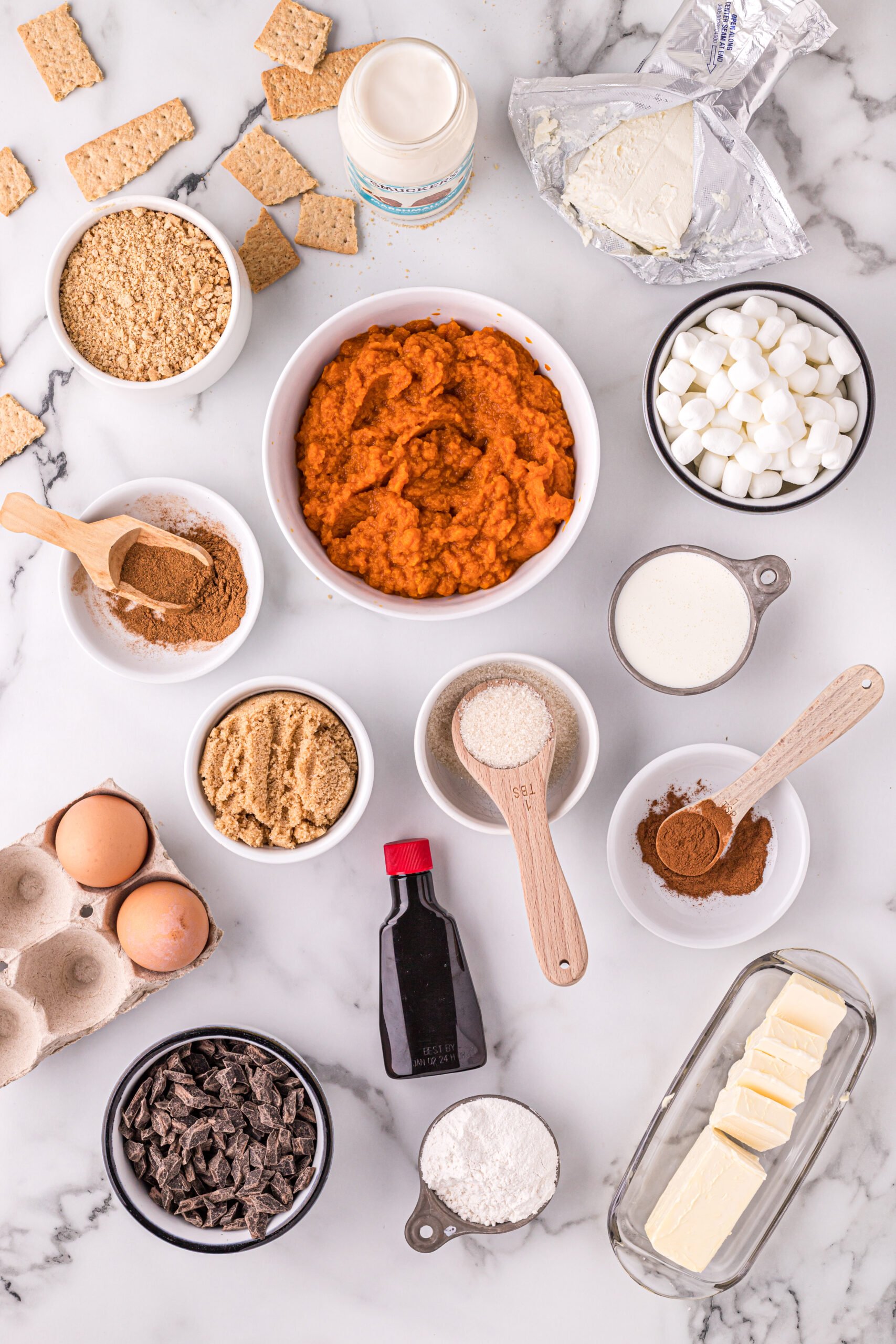 For the Crust: Graham crackers, sugar, pumpkin spice, butter
For the Filling: cream cheese, brown sugar, eggs, pumpkin puree, heavy cream, vanilla extract, cinnamon, nutmeg
For the Crumble/Topping:  Graham crackers, flour, brown sugar, cinnamon, chocolate chunks, mini marshmallows, marshmallow cream
I bet you already have a lot of these ingredients in your pantry. Now is also a great time to stock up on pumpkin puree. It tends to sell out in our local grocery store once fall arrives. I like to have a few cans on hand, ready to use whenever a pumpkin craving hits! Especially the craving for this pumpkin cheesecake bars recipe.
How to Make Pumpkin Cheesecake Bars
There are three main steps to make the perfect pumpkin cheesecake bars recipe. First, you make the graham cracker crust, then the pumpkin cheesecake filling and then the s'mores crumble topping. When the recipe is broken down into parts, you will see that these bars are actually quite easy!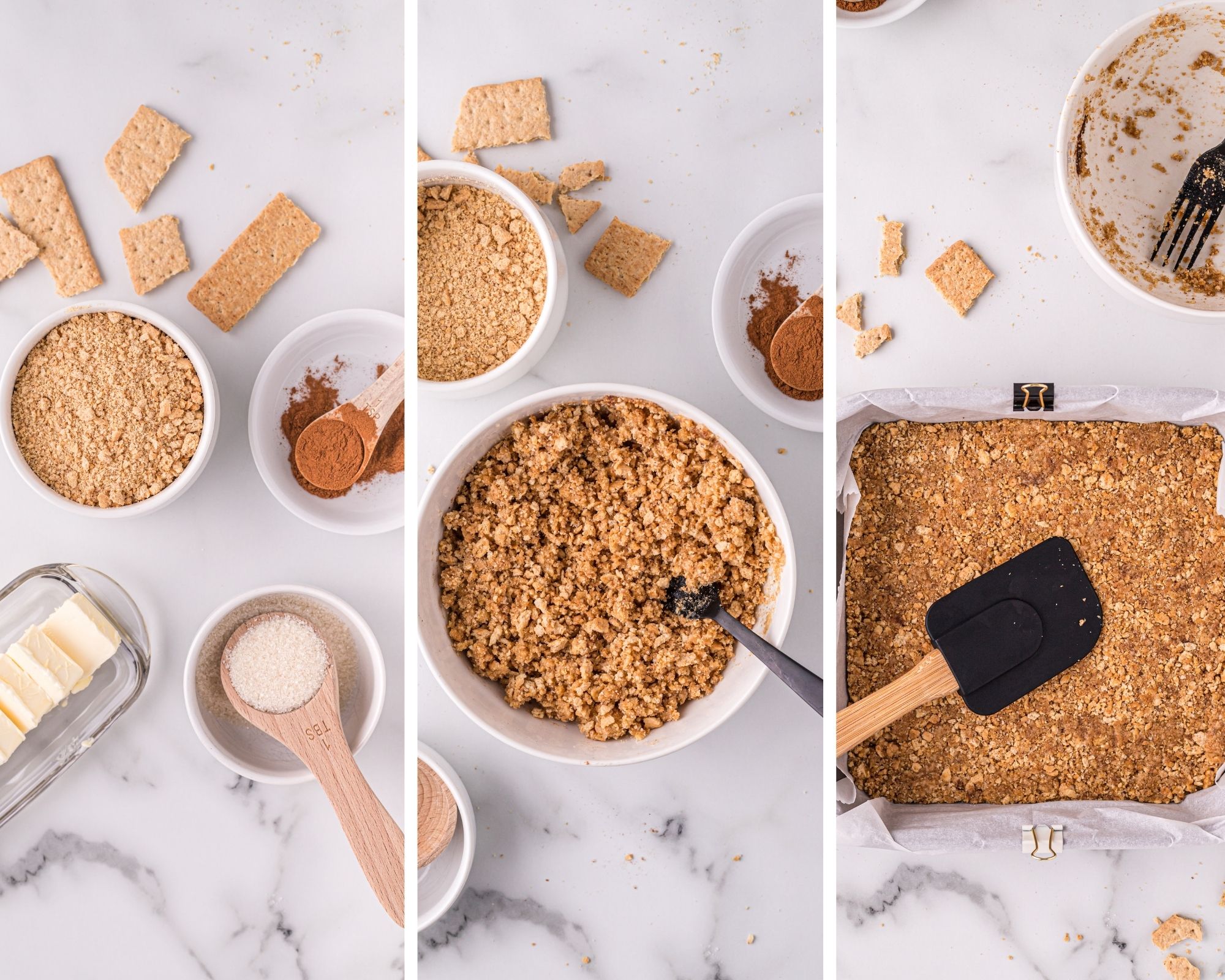 1. Make the Graham cracker crust- Mix the graham cracker crumbs, sugar, pumpkin spice and butter in a bowl. Press the crust into the bottom of an 8×8 inch pan then bake until it is golden brown.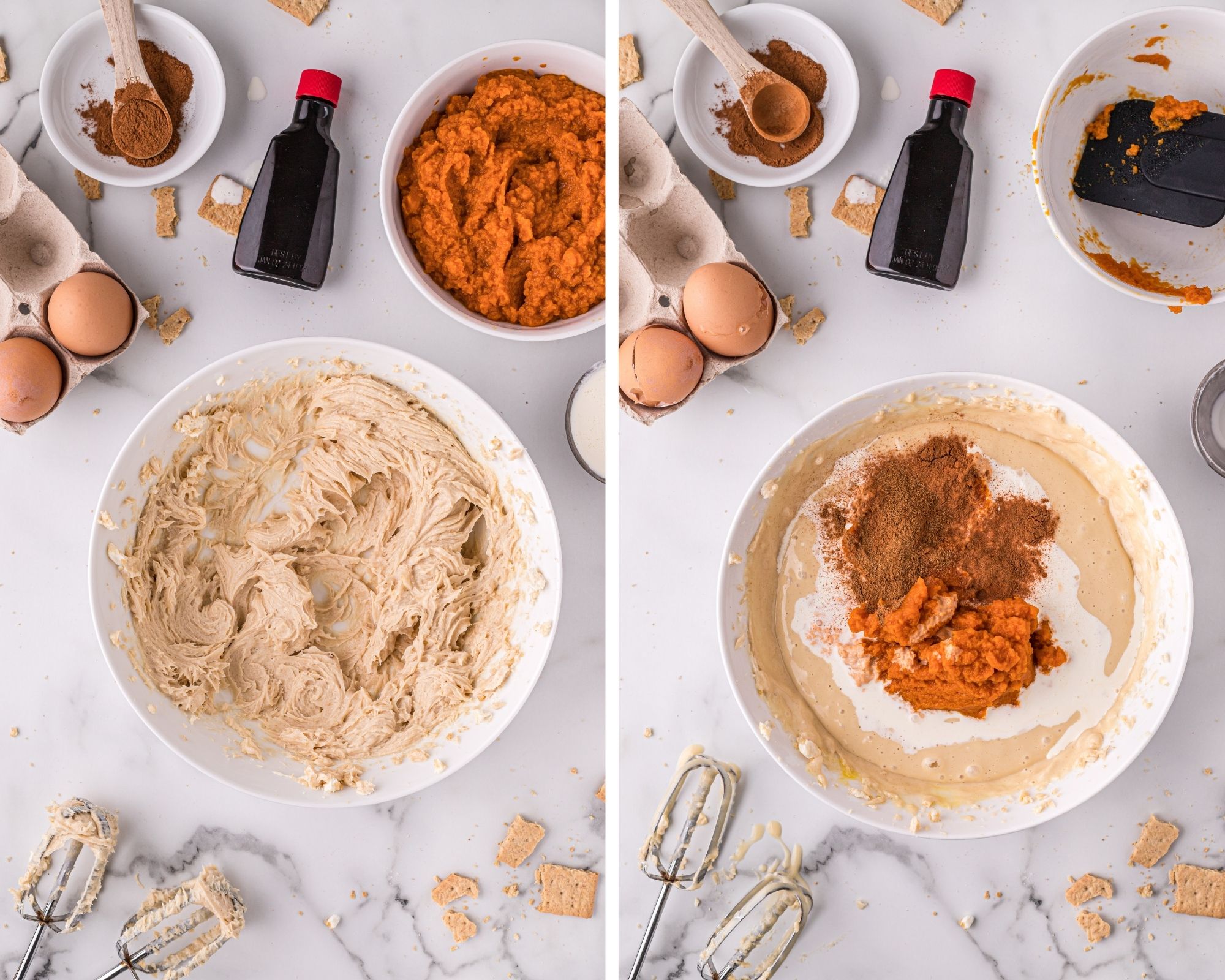 2. Make the pumpkin cheesecake filling- beat the cream cheese and brown sugar. Add the eggs, pumpkin puree, heavy cream, vanilla, cinnamon and nutmeg.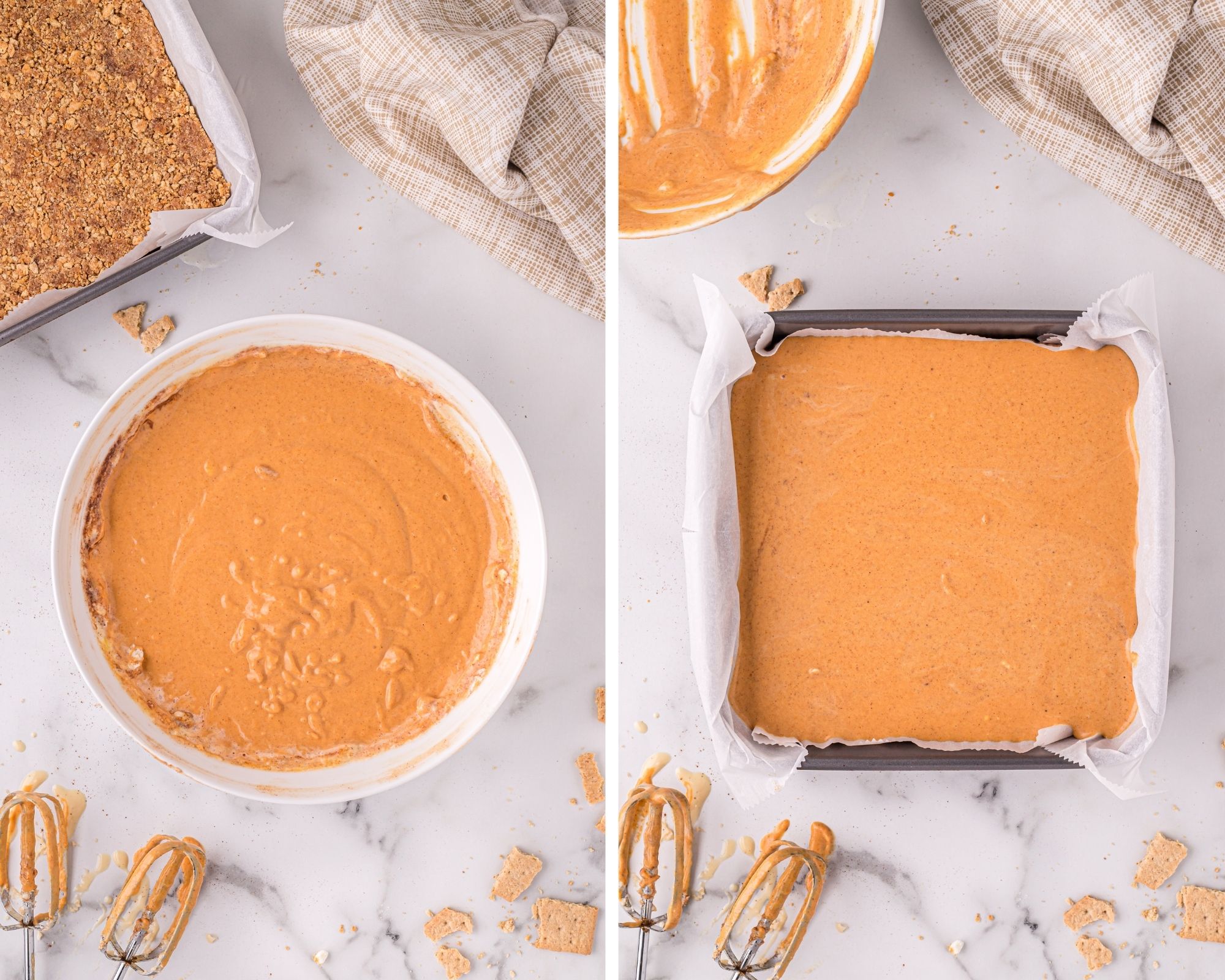 3. Pour the pumpkin cheesecake over the graham cracker crust and bake for 45 minutes.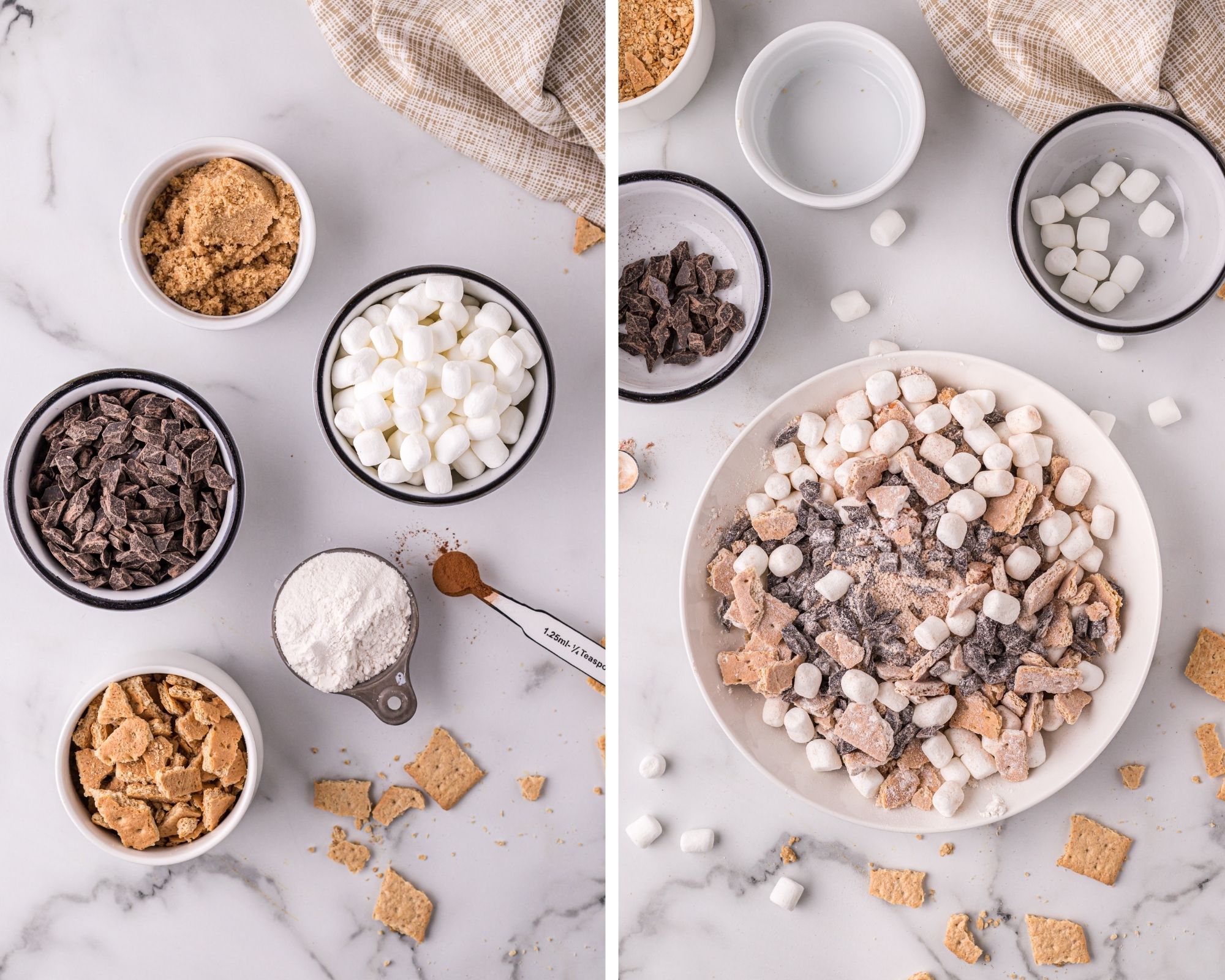 4. Make the s'mores crumble topping- Mix the broken graham cracker pieces, brown sugar, flour, cinnamon, chocolate chunks and mini marshmallows together.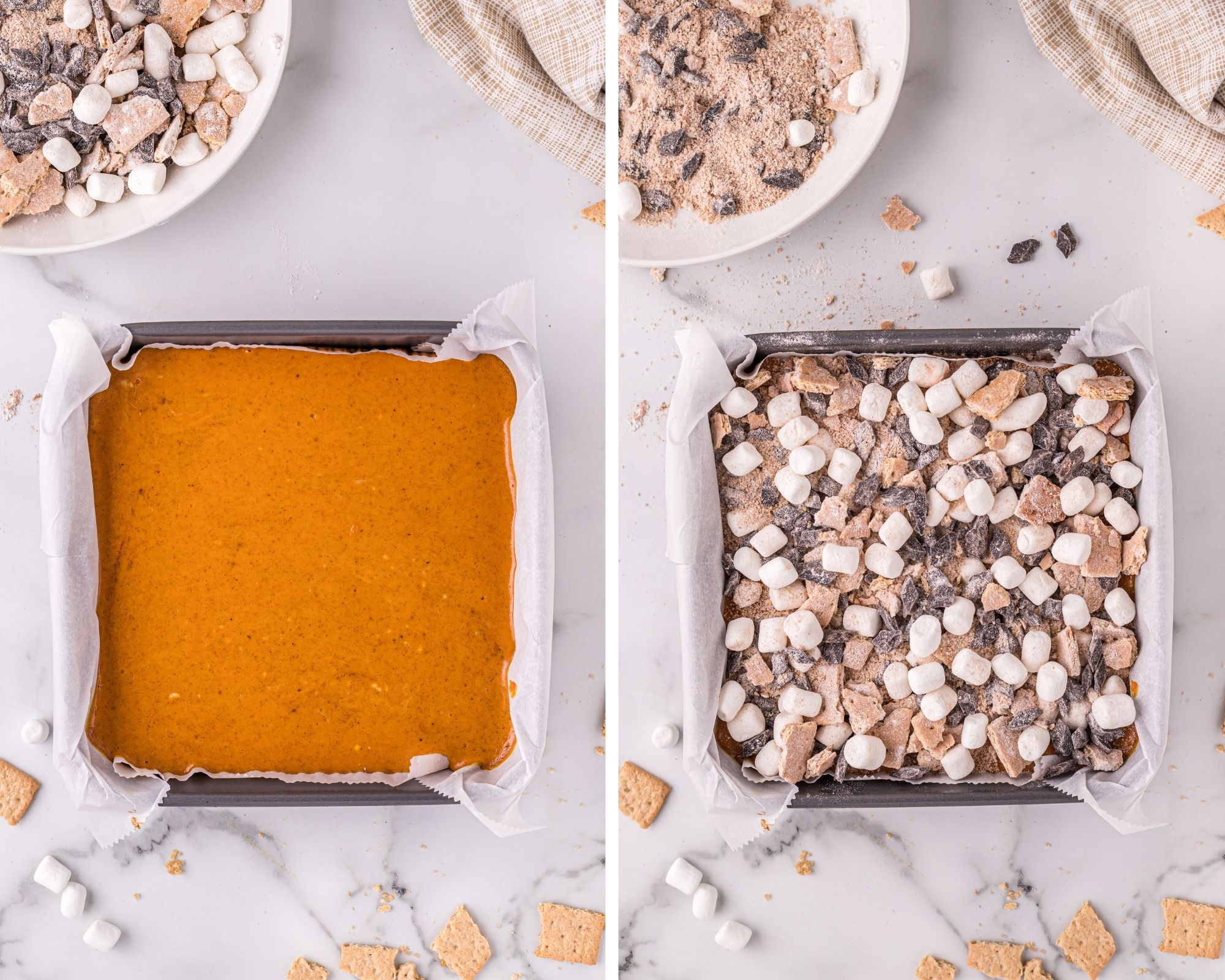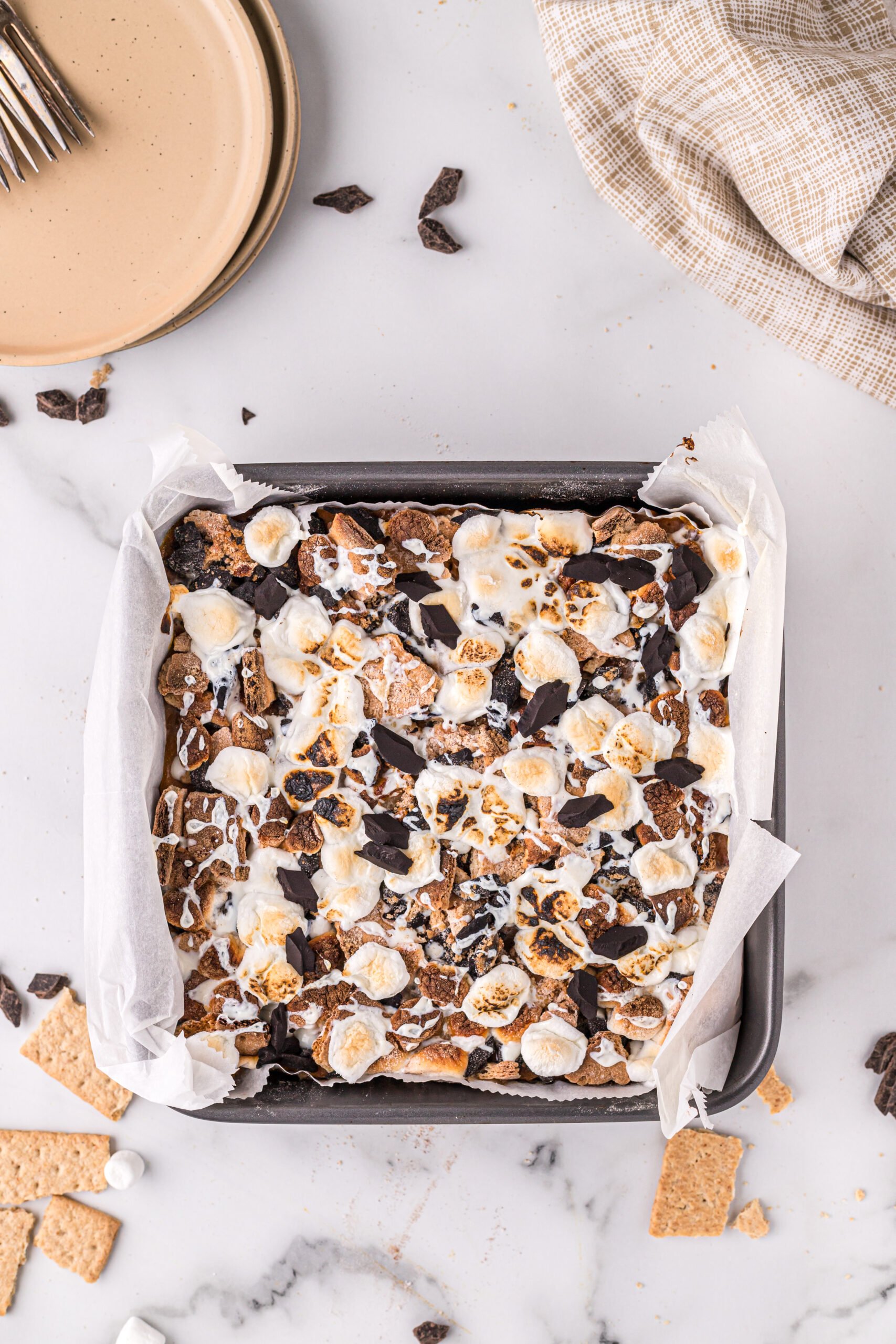 5. Sprinkle the topping over the cooked pumpkin cheesecake and then bake for about 10 more minutes to toast the marshmallows.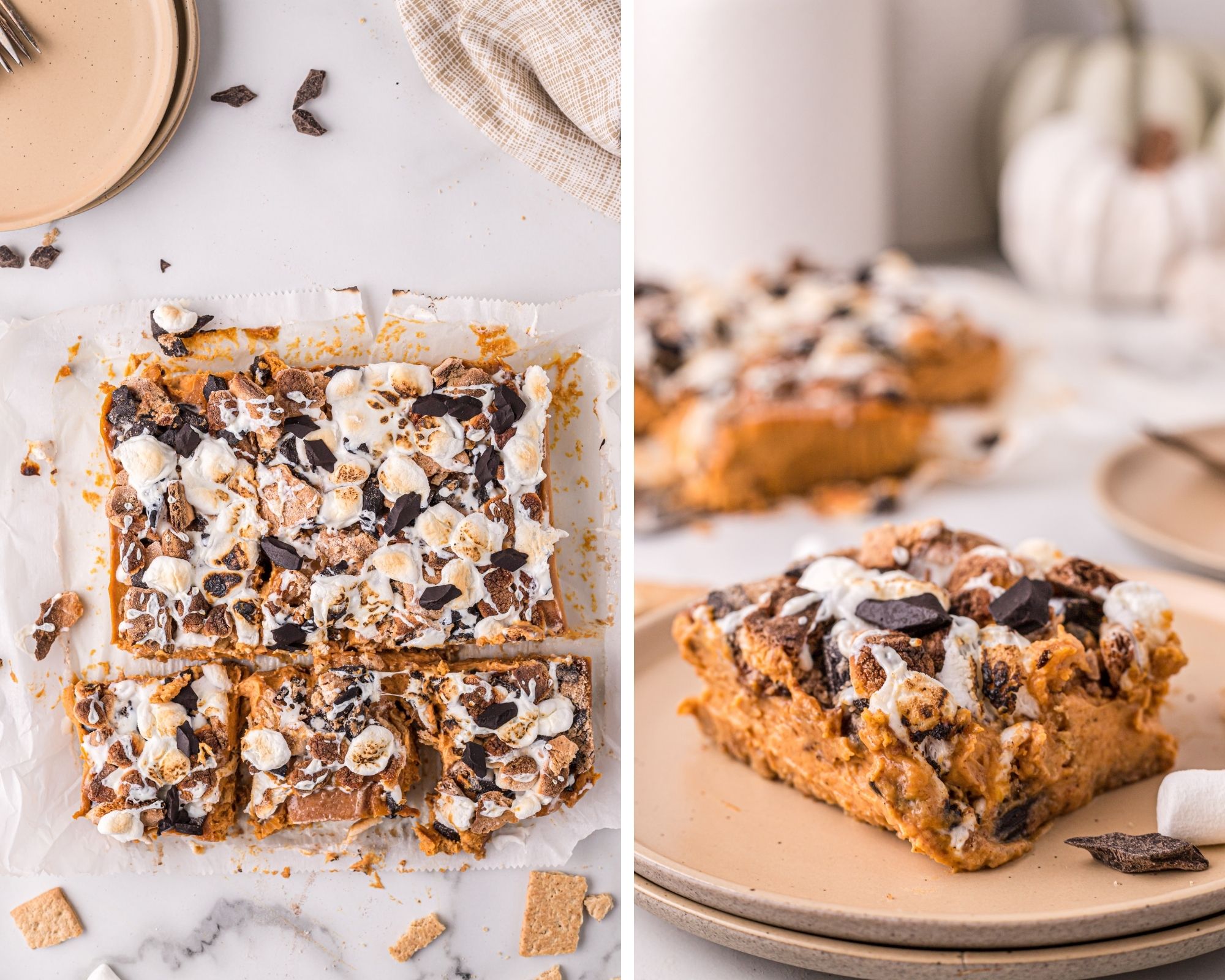 6. Cool the pumpkin s'mores cheesecake bars in the fridge and then enjoy!
There may be a long ingredient list to this recipe but the steps are actually quite simple. You are probably going to make these bars a lot this fall (I know I will be!) and they will get easier and easier to put together!