*Don't forget, the LEGO event at Toys "R" Us happens tomorrow!
Mark your calendars for these FREE LEGO mini building events – perfect if you have a LEGO fan at home (like we do!)
FREE LEGO Fisherman Mini Model Build at LEGO Stores

*EVENT is over* Bring your children ages 6 to 14 at a LEGO store near you for this fun mini-building event on June 4th, 2013. The event starts at 5 pm but plan to arrive at the store early as they can sometimes run out of LEGO supplies. Go here to locate a LEGO Store near you!

FREE Classic LEGO City Police Car Mini Model Build at Toys "R" Us Stores
If you are close to a Toys "R" Us store, check out the LEGO City building event on June 15th, 2013 where your kids get to build an exclusive Classic LEGO City Police Car! This free event runs from 12-2pm at all Toys "R" Us locations. For children ages 5 and up. Event materials available while supplies last and are available only to participating children. Limit one per child.
You might also like the FREE 2 Year Subscription to LEGO Magazine.
Don't miss out on the latest fab deals, cool freebies, high value coupons, fun giveaways, sweepstakes and more! Subscribe to the Hip Mama's Place email newsletter, Hip Mama's Place feed reader, or simply "Like" Hip Mama's Place on Facebook and/or follow Hip Mama's Place on Twitter!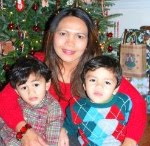 About the Author: Jocelyn Cañasa-Brown is a working mom of two boys and is a recognized blogger and mom influencer in the Washington, DC area. In her spare time, she designs and creates her own handmade jewelry, maintains her jewelry store on Etsy and is an active moms group organizer and leader both online and offline. Hip Mama's Place was nominated for Parents 2011 Best All-Around Mom Blog and named one of the Highest Rated Blogs and Sites on Nickelodeon ParentsConnect for the Washington, DC area. Follow Jocelyn on Twitter, Facebook and Pinterest.