These runs are so fun you'll forget you're…well, running
This is a TotalBeauty.com fitness article
Zombies, raves, warriors, and underwear — these are just a few themes of the most fun runs ever. Dare we say these crazy themes (and the adrenaline that comes with say, running in your underwear with hundreds of people) can actually make running fun? Judging by the nationwide success of these events … absolutely..
Don't miss out on the latest fab deals, cool freebies, high value coupons, fun giveaways, sweepstakes and more! Subscribe to the Hip Mama's Place email newsletter, Hip Mama's Place feed reader, or simply "Like" Hip Mama's Place on Facebook and/or follow Hip Mama's Place on Twitter!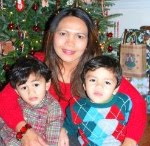 About the Author: Jocelyn Cañasa-Brown is a working mom of two boys and is a recognized blogger and mom influencer in the Washington, DC area. In her spare time, she designs and creates her own handmade jewelry, maintains her jewelry store on Etsy and is an active moms group organizer and leader both online and offline. Hip Mama's Place was nominated for Parents 2011 Best All-Around Mom Blog and named one of the Highest Rated Blogs and Sites on Nickelodeon ParentsConnect for the Washington, DC area. Follow Jocelyn on Twitter, Facebook and Pinterest.