This is a sponsored post in partnership with The Motherhood on behalf of Nature's Bounty.
We know that good nutrition is one of the best ways to maintain a healthy lifestyle. You can improve your health by keeping a balanced diet and maintaining a good exercise regimen. Research shows that while sleep, a healthy diet, and exercise make up 90 percent of our health. Ultimately, we all want to be our best, healthy selves. Because no matter what, we're always better off healthy. And as I am getting older, I find myself wanting to stay even stronger and healthier for myself and for my family. I want to be healthy not only for the big celebrations and victories, but also for those small, everyday moments which truly make life special.
As part of my health goals for the new year, I have been more conscious about the kind of foods I eat, getting my exercise 4-5 times a week and taking my daily vitamin supplements. I won't deny that I love food and I love to cook for myself and for my family, so sometimes it can get challenging to stay on track with my health goals consistently. But today, I want to share with you the ways I motivate myself to maintain healthy daily habits.
I eat less processed foods. By this I mean, I have changed my habit of making quick meals using processed foods. I know it can get challenging sometimes, but I do my best to use the freshest ingredients in my cooking.
I eat lower portion meal sizes. It's difficult to keep from overeating when restaurants often serve huge meals, so I consciously order the smaller portion meals when I dine out. When at home, I fix my food by using smaller plates.
I make note of what's in the pantry . I try to always keep our fridge and pantry stocked with many healthy options so that when it's time to cook, I don't throw in the towel and order out. I keep a board up in my kitchen to write down my shopping list.
I keep a food diary. Keeping a food diary has been a tremendous help when it comes to my healthy eating. I write down what I eat all day, including drinks (I love making my own smoothies!). My food diary shows me clearly what I've been eating and gives me the motivation to improve my diet.
I sleep at least 7 hours each night. I used to stay up late at night but since I've been making a conscious effort to sleep at least 7 hours each night, I feel more energized in the morning and my skin looks so much better too!
I take my daily health supplements. Along with eating better and having a good exercise routine, I make sure I take my must-have daily health supplements. When it comes to vitamin brands, I trust Nature's Bounty. I take the following supplements on a daily basis:
Nature's Bounty® Ultra Strength Probiotic10: Provides advanced support for optimal digestive balance and healthy immune function* through 20 billion live probiotic cultures, at time of manufacturing, and 10 probiotic strains.
Nature's Bounty Adult Multi Gummy: A delicious way to get the nutrients your body needs. Each serving provides 100% Daily Value or more of four key B Vitamins, Vitamin C and Vitamin D to keep you going while supporting your immune system and promoting bone health.*
Nature's Bounty® Lutein Blue: Did you know that digital devices emit high amounts of the high energy blue light which may induce oxidative stress to the eyes? Nature's Bounty® Lutein Blue is a unique eye health supplement that helps filter damaging blue light from electronic devices.*
– Helps protect eyes from the damaging blue light of electronic devices*
– Clinically studied formula to support eye health*
Nature's Bounty® Fish Oil: Supports cardio and circulatory health
Nature's Bounty® Melatonin: A terrific choice if you experience occasional sleeplessness or jet lag, or if you want to improve your quality of rest.* Melatonin is a clinically studied ingredient that helps you fall asleep faster and stay asleep longer.*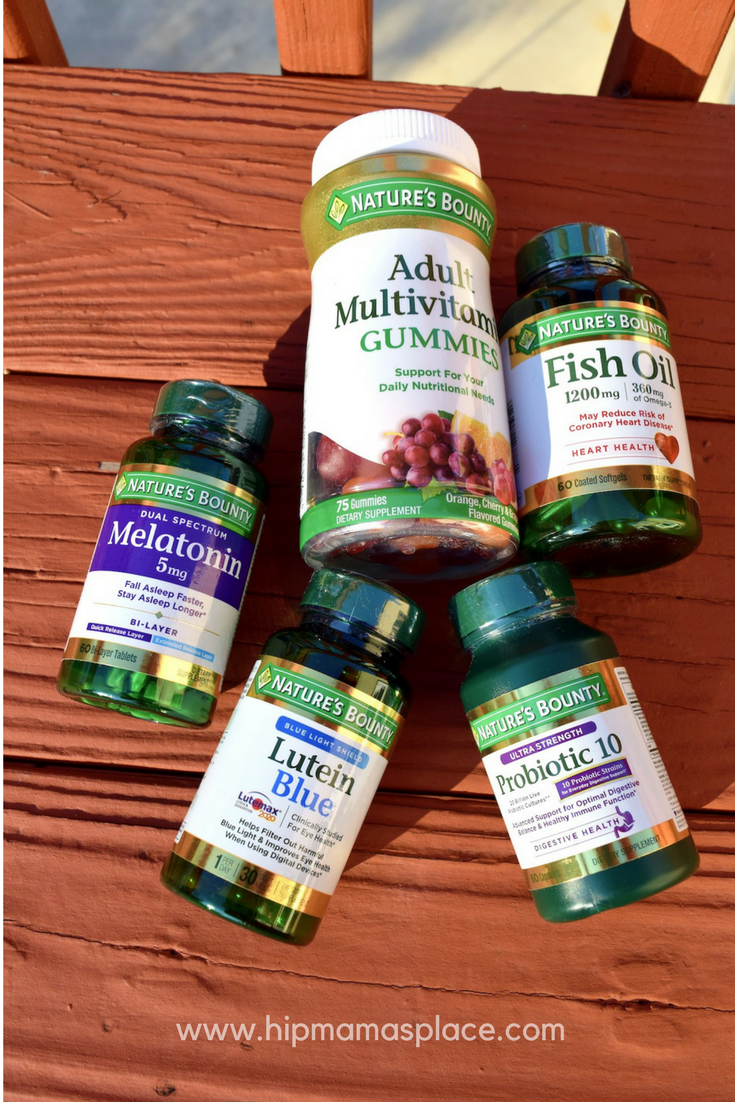 For me and my active family, it's beneficial that we take our vitamins and supplements daily. I know that while we all might have the same goal to be healthy, we all have different ideas of what healthy actually means – whether that's spiritually, socially, emotionally, physically or mentally. Our version of "healthy" will change, just as our career goals and personal dreams might change, but what's important to remember is that no matter what, we're always better off healthy.
And since we're talking about valuing our health, I'd like to share with you this video from The Talk showing decorated figure skater and Nature's Bounty spokesperson Dorothy Hamill sharing her inspiration for leading a healthy lifestyle on and off the ice, and her thoughts on how to healthily celebrate your victories.
For more information about Nature's Bounty and how their health supplement products can support you on your health journey, go to
www.naturesbounty.com
or sign up for the
Nature's Bounty mailing list
to receive news, offers and announcements right to your inbox.
*These statements have not been evaluated by the Food and Drug Administration. These products are not intended to diagnose, treat, cure or prevent any disease.