On a recent trip to the spa, my aesthetician told me about using the Clarisonic brush to exfoliate my skin and give it a beautiful 'glow'. I definitely saw an instant radiance to my face after the facial. I think it had something to do with the Clarisonic brush she used.
My aesthetician told me that I could actually get my own Clarisonic Skin Care System and recommended getting it at SkinCareRX.com. I was glad to hear that because I am already a frequent shopper at SkinCareRX.com for my personal skin care. In fact, I just bought my latest sunscreen at this very reputable skincare online store a few weeks ago.
So here's the thing. If you're looking to improve the texture of your skin and achieve a smoother, more glowing complexion, the Clarisonic Skin Care System will definitely help.

Here's how the Clarisonic works:
Clarisonic uses a sonic frequency of over 300 movements per second to give your skin a cleaning more than twice as effective as cleaning the skin manually. Clarisonic products are guaranteed to make your skin clean, smooth, and radiant. The Clarisonic brush head oscillates back and forth clarifying and gently exfoliating the skin. The flexing action between the outer and inner brushes works deep within the pores to loosen dirt and oil. To use along with a cleanser, serum, and replacement brushes, Clarisonic will have your skin looking at its absolute best. And because it's designed to make your skin treatment products absorb better, you're actually saving big bucks!
Starting at $195.00, the Clarisonic Skin Care System is an investment- but definitely a worthy one. Imagine going to the spa and paying at least $200 for one facial. With the Clarisonic Skin Care System, you can use it many times over and you don't have to shell out $200 every time you use it. Now to me, that is well worth the investment! Get yours today at SkinCareRX.com!
*WIN IT!
*Win a $100 SkinCareRx Gift Certificate, good towards any purchase at SkinCareRX.com!
*CONTEST GUIDELINES:
To enter the contest, please leave a comment on this post and tell me what you know about SkinCareRX.com and the skin care products they offer. Please leave your email address (if you don't have a blog). This contest is open until August 13th, 2010 at 12MN, EST to U.S. AND CANADA ADDRESSES ONLY. I will choose one (1) winner using Random.org and will be announced as a comment on this post. The winner will also be notified by email and/or through a comment on the winner's blog (if available).
*IMPORTANT: PLEASE DO NOT CROSS-PROMOTE ANY OTHER GIVEAWAYS HAPPENING ON ANY OTHER BLOG OR WEBSITE. I WILL APPRECIATE IT VERY MUCH.
*EXTRA ENTRIES for many chances to win!
Your comment is your one required entry. To earn extra entries, just do the following:
1. Become a fan of SkinCareRX on FaceBook (2 extra entries, leave 2 comments)
2. Follow SkinCareRX on Twitter (2 extra entries, leave 2 comments)
3. Sign up for the SkinCareRx Newsletter- the link is on the very bottom left of the SkinCareRX.com website (3 extra entries, leave 3 comments)
4. Write a blog post with a link to Clarisonic Skin Care System on SkinCareRX.com. Each blog post must have a minimum of 100 words (10 entries, leave 10 comments)
5. Tweet this event on Twitter however you like, but include this URL page and hash tags at the end of your comment: http://bit.ly/cUV92S #giveaways #skincare #SkinCareRX (5 EXTRA ENTRIES, leave 5 comments)
Example:

I just entered the $100 SkinCareRX.com GC giveaway on Hip Mama's Place! http://bit.ly/cUV92S #giveaways #skincare #SkinCareRX
6. Like or Become a fan of Hip Mama's Place on Facebook and post a comment on our wall and tell me why you like visiting Hip Mama's Place or reply to the latest post on our wall (3 EXTRA ENTRIES, leave 3 comments)
7. Follow me or friend me on Google Friend Connect (link is under "Our Hip Followers" on the left side bar) (3 EXTRA ENTRIES, leave 3 comments)
8. Follow Hip Mama's Place on Twitter (2 extra entries, leave 2 comments)
9. Join the Hip Mama's Place Community and EARN 2 EXTRA ENTRIES. You can earn 3 more extra entries by creating a new post or join in on the conversations on the "Forum" section of our mom community. (3 TOTAL EXTRA ENTRIES, leave 3 comments)
10. Grab the Hip Mama's Place badge code under the "Grab Our Fabulous Button" and paste it on an HTML page on your blog sidebar. (3 EXTRA ENTRIES, leave 3 comments)
Remember, the more entries you have, the greater chances of winning! Please make sure to leave a separate comment for each thing you do for your extra entries, as specified and listed on 1-10 above. Good luck!
*Hip Mama's Place Disclosure: "My opinions remain my own. I did not receive compensation for this post. The $100 SkinCareRX Gift Certificate giveaway is provided solely by SkinCareRX.com".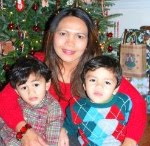 About the Author: Jocelyn Duncan is a working mom of two boys and is a recognized blogger and mom influencer in the Washington, DC area. In her spare time, she designs and creates her own handmade jewelry, maintains her jewelry store on Etsy and is an active moms group organizer and leader both online and offline. Follow Jocelyn on Twitter and/or Facebook.